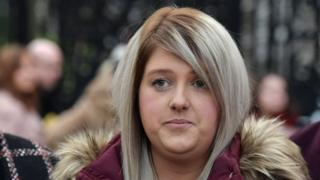 NI's abortion law breaches the UK's human rights commitments, the High Court in Belfast has ruled.
The case was taken by Sarah Ewart, who challenged the law after she was denied a termination.
The judge said she ruled in Mrs Ewart's favour as it was not right to ask another woman to relive the trauma that she had already experienced.
A formal declaration of incompatibility would not be made at this stage, the judge said.
Mrs Justice Keegan made that decision in light of impending legislation passed at Westminster which will decriminalise abortion.
Currently, a termination is only permitted in Northern Ireland if a woman's life is at risk or if there is a risk of permanent and serious damage to her mental or physical health.
Rape, incest or diagnoses of fatal foetal abnormality (FFA) – where medics believe that a baby will die before, during or shortly after birth – are not grounds for a legal abortion in Northern Ireland.
Mrs Ewart was told she could not have a legal abortion in 2013, despite doctors saying her foetus would not survive outside the womb.
She went to England for a termination and has campaigned to change NI's law in cases of fatal foetal abnormality.