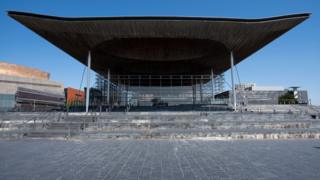 AMs have backed renaming the assembly, calling it both Senedd Cymru and Welsh Parliament, in a vote on Wednesday.
A majority of AMs rejected the Welsh-only name Senedd and backed former first-minister Carwyn Jones' proposals for a bilingual name.
But proposals to call AMs Members of Senedd Cymru or Member of Welsh Parliament were both rejected – the latter by a knife edge.
A total of 43 AMs backed Mr Jones' plan, versus 13 against.
Members of the assembly rejected a vote calling for the name to be purely Senedd, backed by Plaid Cymru and some Labour members, 16 for, 38 against, and one abstention.
The assembly is debating the Senedd and Elections bill, which also makes changes to how the assembly is elected and who can stand for it.
The votes are not the final stage in the matter, but are a major part of the process to decide what the final name will be.
Former first minister Carwyn Jones's proposal for a bilingual name had sparked debate – supporters of the name Senedd have included BBC News presenter Huw Edwards.
The debate opened on Wednesday with Rhun ap Iorwerth of Plaid Cymru, who was backed by Labour's Hefin David and Mike Hedges in wanting to call the assembly simply Senedd.
The name is already used for the building in Cardiff Bay that houses the assembly chamber.
Mr ap Iorwerth said Senedd is a "word that is of Wales, a word rooted in the Welsh language, a word that is bilingual in its application".
He said it "belongs to us all".
Mr Jones, Labour AM for Bridgend, had been supported by the Welsh Government.
He said he himself would use the term Senedd, but his amendments made it clearer in law that Senedd Cymru is Welsh Parliament.
"There can be no argument about the terminology." Mr Jones said.
He said it was "true to say Senedd is becoming more apparent among the public". But it was not the case yet that "everyone understands that Senedd means parliament".
The original bill stated that Senedd would be the name but that it could also be known as Welsh Parliament – ministers had been worried that this would be confusing.
The former first minister was backed by David Melding, Conservative AM for South Wales Central.
He said a bilingual name would celebrate "the magnificent world we live in, in the English speaking world and Welsh speaking world – that combination makes Wales an exceptional place".
Mr Jones had proposed that members be called Members of Senedd Cymru, while Blaenau Gwent Labour AM Alun Davies had backed Members of Welsh Parliament.
Both were rejected. Mr Jones' amendment for the new title failed to pass 25 votes for, 26 against, with four abstentions.
It means that, as things stand, AMs will be renamed Member of the Senedd as per the bill's original proposal.