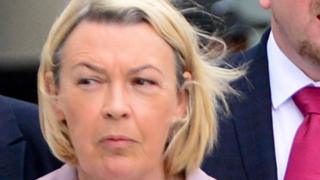 An MP has revealed she was recovering from treatment for breast cancer during the recent general election campaign.
Barbara Keeley, 67, said she was diagnosed in April, had surgery in May and radiotherapy in July.
Speaking at a party meeting on Thursday, the Labour MP for Worsley and Eccles South stressed the importance of "self-checking" for lumps.
She also thanked her colleagues and family for their support, and the medical team at Guys Hospital, London.
"It was deeply shocking. No-one else in my family has had breast cancer – it was the last thing I was expecting," she told the BBC.
"You are told this could be fatal but I got great treatment and it needs to be stressed, breast cancer can be treated."
'Waves of fatigue'
The MP said fighting the election in the aftermath of surgery and radiotherapy was "about as far away from the ideal circumstances for campaigning as you can get."
"The radiotherapy leaves you feeling very fatigued and you are never quite sure when one of those waves of fatigue is going to hit you.
Ms Keeley said she had gone public about her illness to raise awareness about self-examination for breast cancer.
"It was difficult to talk about it during the election because personal health issues are not something you talk while you are trying to be elected as an MP.
"It was doing a self-check that I found the tumour and I managed to find it when it could bed dealt with at an early stage.
"It is very easy to think this will never happen to me. It is quite important for those of us who have had cancer to talk about how we discovered it."
Ms Keeley, who has been an MP since 2005, retained the seat in December with a 3,219 majority.
Her Tory opponent, Rabbi Arnold Saunders, said he was "very shocked" at the revelation.
"Hats off to her. I am full of admiration for Barbara. I hope she stays well," he said.
Fellow Labour MP Diana Johnson tweeted: "An amazing MP, I am proud to call a good friend, who has always worked so hard for her constituents."
---
Breast self-examination
The NHS advises women to look for:
A change in the size, outline or shape of the breast or the look or feel of the skin, such as puckering or dimpling
A new lump, thickening or bumpy area in one breast or armpit that is different from the same area on the other side
Nipple discharge that is not milky, bleeding from the nipple or a red area that does not heal easily
Any change in nipple position, such as your nipple being pulled in or pointing differently, or a rash around it
Any discomfort or pain in one breast, particularly if it is a new pain and does not go away (although pain is only a symptom of breast cancer in rare cases)
Source: NHS England