Sometimes, only a 75-inch TV will do. With a sense of scale far beyond smaller 55-inch or 40-inch sizes, and more big-screen models coming out every year, those wanting to go above and beyond will likely be after one of the best 75-inch 4K TVs for their next home television.
While a 75-inch TV may have seemed an absurd proposition even a couple of years ago, improved manufacturing processes and increased demand have made these behemoth screens more affordable and widespread than ever before. (Those after a truly leviathan display will need something like this 98-inch Samsung TV, but good luck affording it.)
That doesn't mean 75-inch TVs are cheap, though. You're still paying on average a lot more than smaller sizes, given the increased materials and higher-spec processors needed to make each pixel pop on such a large screen. If you see a 75-inch TV that's suspiciously affordable, it's likely using older LCD technology that was designed for smaller screens – and therefore won't be delivering the high-impact image quality you're no doubt after in this category.
So what are the best 75-inch 4K TVs, and where can you find them? You'll find everything you need in our buying guide below. 
Make sure to check back every few weeks, though, as we'll be updating this page with the latest 75-inch TV reviews – and given what we've seen so far of new sets like the TCL 8-Series 8K QLED, or LG's 8K NanoCell LCD, the top sets below could be beaten at any time.
Does the idea of 75-inch TV terrify you? Head to the safe embrace of the best small TVs out there
TechRadar's 75-inch TV buying advice
First and foremost, be really careful about TV sales that sound too good to be true. If you see a 75-inch 4K TV for around $600, it's probably going to let you down in terms of picture performance.
So who's the main culprit that causes ugly images in the 75-inch range? Bad backlighting. While the cheapies use edge-lit LED panels that produce poor black levels and contrast, the bigger brands opt for either direct, full array LED panels – or in the case of LG, OLED panels. Both illuminate across the whole screen, and create both luscious color and 4K clarity.
Currently, our favorite 75-inch TVs are LG's series of OLEDs, which boast exceptional black levels and premium HDR. They're perfect for a dark room experience, like a home cinema, though for brightly-lit rooms you may want to consider Samsung's QLED TV series. Then there's Sony, whose efforts are impossible to ignore, and a few more affordable brands to tempt you to buy a 75-inch TV for relatively small spend.
Not sure where to start? Take a look at our favorite 75-inch 4K TVs right now, listed below for your convenience. Each series in this list has been tested and approved by our expert team of reviewers, so you can buy with confidence.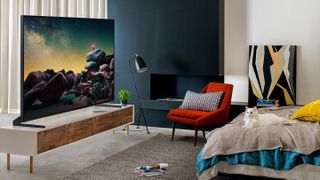 1. Best 75-inch TV: Samsung Q950R
Brighter pictures are the key take away with this 75-inch behemoth
Screen size: 75-inch | Tuner: Twin Freeview HD/Twin Freesat HD | Resolution: 3840 x 2160 | Panel technology: LED | Smart TV: Smart Hub | Curved: No | Dimensions: 1680 x 337 x 1020 mm (W x H x D)
Cutting-edge image processing
Wider viewing angles
Limited 8K content
No Dolby Vision or Atmos
When you're buying a TV of this size, you may want to start thinking about 8K. While there isn't much native 8K content out there to stream or play, the upscaling capabilities of high-end sets like the Samsung Q950R mean than even HD or 4K video can get an 8K overhaul, and the results speak for themselves.
Even if QLED panels can't match the contrast or black levels of OLED panels, the Q950R offers truly incredible image-processing, with more than enough strengths to make up for that disparity – and hugely improved viewing angles from even last year's QLED range.
Keep in mind that you only get the Samsung-backed HDR10+ format, rather than the competing Dolby Vision standard, meaning you won't be able to watch Netflix titles – and some Blu-ray discs – in the highest quality imaginable. The lack of Dolby Atmos, too, is a disappointment for those wanting premium audio to play through their TV speakers.
But for picture quality, smart interface, and the ability to futureproof for 8K content, make this simply the best 75-inch TV you could buy. (Don't worry, the rest of the list is cheaper.)
Read the full review: Samsung Q950R 8K QLED TV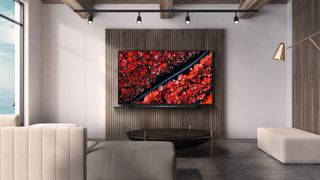 2. The runner up: LG C9 OLED Series
An excellent OLED TV, now in a 77-inch size
Screen size: 77-inch | Tuner: Freeview HD | Resolution: 3840 x 2160 | Panel technology: OLED | Smart TV: webOS | Curved: No | Dimensions: 1722 x 1046 x 254mm
Dolby Vision and Atmos
AI-enhanced smart platform
Lacks brightness vs LCD
Weaker speakers compared to higher end LG OLEDs
Not fussed about 8K? This 77-inch 4K OLED still offers startling crisp images and the vibrant colors and enhanced contrast that OLED panels are known for, with support for Dolby Vision, HLG, and Dolby Atmos audio.
With the well-organized webOS smart platform giving you easy access to the smart TV's many apps and services, and the OLED panel and upgraded a9 Gen 2 processor to make those images really pop – not to mention 2.2. channel speakers – there's very little to criticize in this excellent 2019 LG TV.
It won't go quite as bright as Samsung's QLED TVs, and may fall slightly behind on motion handling – but don't worry, you're still getting an exceptional, color-accurate picture that beats anything you'll see at the cinema. While it's available in 55-inch and 65-inch sizes, this larger model will have the biggest impact of the lot.
Read the full review: LG C9 OLED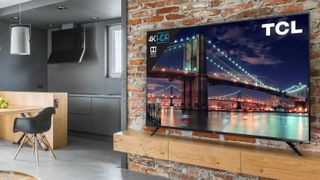 3. Best value 75-inch TV: TCL 6-Series (US)
New for 2019, the 75-inch version of the 6-Series is a great value
Screen size: 75-inch | Tuner: N/A | Resolution: 3840 x 2160 | Panel technology: LCD | Smart TV: Yes (Roku TV) | Curved: No | Dimensions: 66.1 x 40.7 x 15.9 inches (W x H x D)
Roku TV is great
Bright, colorful HDR
Loss of darker details
Limited motion settings
It was announced at CES 2019 that TCL's awesome (and inexpensive) 6-Series would be getting a 75-inch version starting in 2019. The TV offers Dolby Vision support, and comes with Roku TV as its smart platform – though this size model is available exclusively to Best Buy in the US.
While TCL's 6-Series didn't impress us quite as much as the other TVs on this list, it is a competitive screen at its price point, offering bright, colorful HDR and exceptionally clear images.
If you have deep pockets and a checkbook filled with blank checks, we'd still tell you to reach deep and shell out for something higher on this list. But if the TCL 6 Series is what's in your budget, it will provide exceptional performance for the price.
Read the full review: TCL 6-Series
4. Most affordable 75-inch TV: Sony XF90 / X900F (2018)
Sony has the cheapest ticket to a 75-inch screen
Screen size: 75-inch | Tuner: Freeview HD | Resolution: 3840 x 2160 | Panel technology: LCD | Smart TV: Android TV | Curved: No | Dimensions: 1447 x 829 x 69 mm (W x H x D)
Excellent HDR & SDR picture quality
Clean, open sound
Android TV is frustrating
Divisive design
Need something cheaper than the TCL 6-Series? This Sony TV was released back in 2018 and retails for just a bit less – making it an even more accessible entry point for big-screen action.
It isn't the sleekest-looking set we've reviewed: the two large feet aren't quite becoming for the size of the screen, and you likely won't have a table big enough to rest it on. But Sony's direct LED lighting system with local dimming helps create some serious image quality, particularly during 4K HDR material. 
Meanwhile, the effect of Sony's X1 Extreme video processor is to remove noise so intensely that new levels of detail are revealed. On a big TV, that's important. We also love the way the XF900 up-converts standard dynamic range (SDR) images to HDR. 
In fact, the only thing we're really annoyed about on the XF90 is its use of Android TV as its smart TV system, which (Chromecasting aside) is both cluttered and confusing. The X900F is also available as an 85-inch version in the US, too.
Read the full review: Sony XF90/X900F
Jamie Carter contributed original reporting to this article.