The best TVs of 2020 are truly a sight to behold. Offering the best picture processing, connectivity, smart platforms, format support, build and design, these are the sets that were unrivalled throughout the past year – or, rivalled only by each other.
There are a huge number of televisions entering the market each year, all of them vying for your attention, and your cash. That's why we've brought together our pick of the best TVs for 2020, for a range of panel technologies like QLED and OLED, and the best affordable models among the truly high-range displays out there.
We realise 2020 is still getting underway, and there will no doubt be sets in the near future replacing some of the models on this list – still largely from 2019 – so make sure you check back in the coming weeks to see what else knocks this big-hitting televisions from their perch. CES 2020 will certainly have surprises for us, too.
The most important thing to remember is that all of these sets were elevated by their impressive performance, but that not all of them may be the best TV for your own home. Making sure you're buying a set with the right sizing for your home, and capabilities for your needs, is the next step after landing on this guide.
If you're feeling confused, our guide to the best TVs available will help you separate bargain-buy panels from the best 4K screens, and which sets are worth connecting to that 4K Blu-ray player you've been eyeing up. We'll help you find an awesome flatscreen without wasting hours of research comparing spec sheets.
You can also check out our best 4K TVs guide, or just the cheapest 4K TV prices for a truly bargain deal. But, if you're looking for the best-of-the-best TV out there today without limits or stipulations, this is the place for you. 
"So, should I buy a TV now or wait it out?"
This is a question we're asked a lot. Like most technology, TVs are getting incrementally better all the time – which means, yes, if you wait a year there will probably be a bigger, flashier TV out there for less money. 
But, that said, there has recently been a huge flurry of progress as manufacturers have rushed to embrace new display standards including Ultra HD, Wide Colour Gamut and HDR. 
The majority of smart TV manufacturers now support these next generation of features, but you'll have to check the small print in a few cases. 
So long as your next TV purchase supports these technologies (looking for an Ultra HD Premium certification is a good way to go), we reckon you won't be kicking yourself in six months' time when the next batch of sets arrive.
If you do want to future-proof against the next wave of hardware specifications, though, the new HDMI 2.1 standard is going to prove crucial for serious gaming setups: allowing support for 8K resolution at 60 frames per second, 4K at 120, alongside a range of new gaming features that will be supported over HDMI. But unless you're seriously into your gaming then we reckon you're safe making a purchase now.
Want better audio? Check out our guide to the best soundbars available.
The best TVs of 2020
1. LG C9 OLED Series (2019)
The smartest TV on the planet?
55-inch: LG OLED55C8 | 65-inch: LG OLED65C8
Dolby Vision and Atmos
AI-enhanced smart platform
Lacks brightness vs LCD
Weaker speakers compared to higher end LG OLEDs
Replacing the LG C8 model from last year, the LG C9 OLED is a stunning evolution of the TV-maker's OLED technology. 
Combining a stunning display with an immense amount of features and formats – with LG's brilliant webOS smart platform – this is undoubtedly one of the best 4K TVs ever made. There aren't huge differences with last year's model, but the addition of the 2nd Gen a9 processor means the picture processing is truly top-notch.
While it's not as bright as an LCD TV, those deep blacks make a huge difference to the dynamic range of the image. It's also capable of vibrant and gorgeous colours, not to mention an astounding level of detail with native 4K content.
There are more expensive LG models in the range: notable the W9 and E9 OLEDs, though you're mainly paying for the fancier form factor and bigger audio output. For an OLED TV this year – or any TV, really – that performs for the price, you should really be considering the C9.
Read the full review: LG C9 OLED (OLED55C9, OLED65C9, OLED77C9)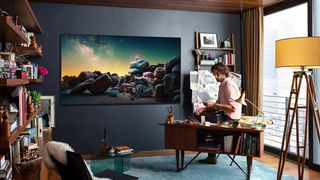 2. Samsung Q900R QLED TV (2019)
An 8K LCD-LED TV for the history books
65-inch: Samsung QE65Q900RATXXU | 75-inch: Samsung QE75Q900RATXXU | 85-inch: Samsung QE85Q900RATXXU
Incredible brightness and color
Ground breaking upscaling
Predictably pricey
Limited 8K content
The 8K television we've been waiting for? With only so much 4K content out there, you'd be forgiven for thinking Samsung may have jumped the gun slightly on this one. But this is still the world's first true 8K TV, and while it's easy to be critical about the Samsung Q900R, it truly does usher in a new era of TV picture quality. 
The native 8K pictures are incredible, looking just like the real world – only better. But even more crucially given the dearth of true 8K content for the foreseeable future, the 85Q900R makes all today's lower resolution sources look better than they do anywhere else, too. 
Whether 8K delivers the same impact on smaller screens remains to be seen, but if you have a big enough room and budget, the Q900R is a vision of the future that's spectacularly worth buying. In the UAE, the 75-inch with the model QA75Q900RBKXZN goes for AED 24,999 and the 82-inch with the model QA82Q900RBKXZN that retails for AED 31,999. 
Read our full review: Samsung Q900R 8K QLED TV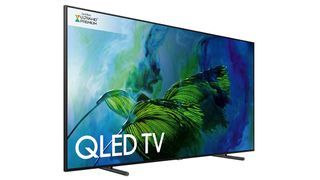 3. Samsung QLED Q9F (2017)
Getting the hots for metal Quantum Dots
75-inch: Samsung QE75Q9F | 65-inch: Samsung QE65Q9F
Unprecedented colour levels
Ultra high brightness
Occasional backlight clouding
Limited viewing angles
It looks like someone on Samsung's TV design team has been watching 2001: A Space Odyssey. The 65-inch Q9 is a ringer for that film's mysterious black monolith thanks to the way both its front and back sides are completely flat and feature ultra-robust, polished finishes. Ultra HD HDR playback is what the Q9F was created to do and, given Samsung's potent HDR track record, it's no surprise to find that it does it supremely well. Even though the Q9F has 4K HDR optimisation in its DNA, it's capable of looking seriously good with high definition standard dynamic range content too.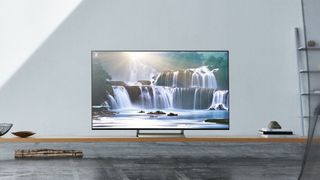 4. Sony XBR-X930E Series (2017)
Sony turns to the bright side using its Slim Backlight Drive
65-inch: Sony XBR-65X930E | 55-inch: Sony XBR-55X930E
Blisteringly bright HDR images
Stunningly rich colors
Android TV is cumbersome
Runs sluggishly at times
The X930E Series builds on last year's X930D series in a few important ways, the first of which is by including one of Sony's new X1 Extreme chipsets. These are around 40% more powerful than the original X1 chips, and introduce separate databases to help the TV analyze noise and upscale sub-4K sources to the screen's native 4K resolution. Add in an apparently much-improved sound system and Sony's Triluminos technology for delivering today's wider color ranges and the X930E series seems to tick all the right boxes. 
Unfortunately, though, even an improved version of Sony's Slim Backlight Drive can't completely hide the fact that with current edge LED technology there's always a backlight-based price to pay for all that HDR-sating brightness.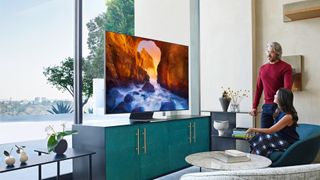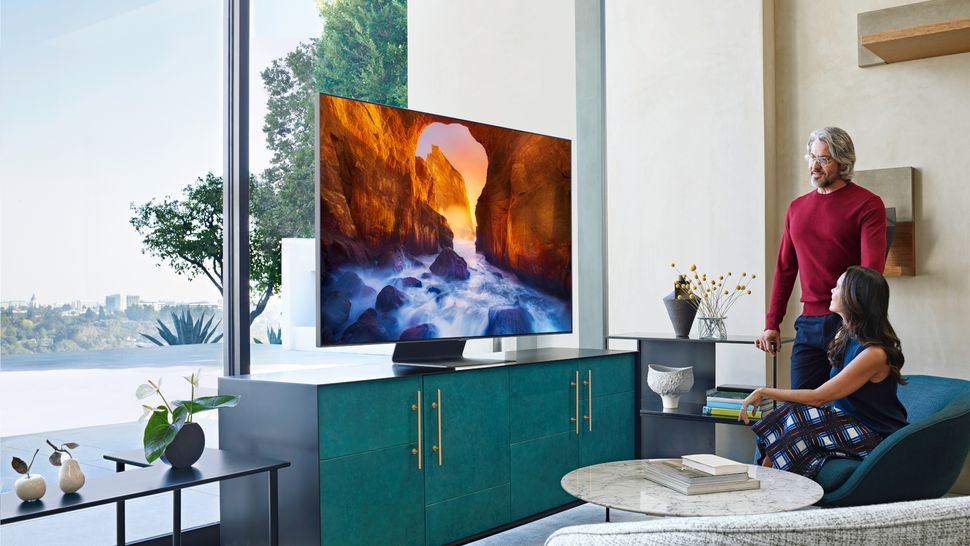 5. Samsung Q90 QLED TV (2019)
The best TV ever? Could be!
Superb picture quality
Attractive design and well built
No Dolby Vision support
No Dolby Atmos speakers 
Last year the Samsung Q9FN won plaudits galore for its features and image quality. But it's now been replaced on our list of the best 4K TVs by the Q90 QLED TV. The Q9FN wasn't perfect and there were legitimate complaints about viewing angles and an over-aggressive local dimming system that crushed detail just above black.
Samsung has clearly taken these criticisms to heart, and directly addressed them in the Q90. The new model has a visibly superior viewing angle that holds its own against an OLED TV, and the local dimming delivers deep blacks without losing shadow detail. To that end, the new Ultra Black Elite filter is nothing short of a revelation, rejecting ambient light in a way that just staggers belief. 
It's not too much of a leap to say that the Samsung Q90 is the most impressive QLED we have reviewed to date, incorporating comprehensive features and cutting-edge picture innovations. As a result, this TV can deliver a performance that is capable of competing with and often surpassing even the best OLEDs.
Read the full review: Samsung Q90 QLED TV review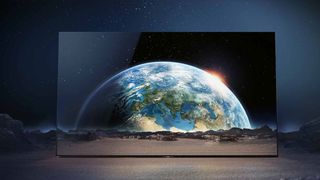 6. Sony Bravia A1 OLED
Sony's brand-new TV for 2017 is returning to OLED
65-inch: Sony Bravia 65A1E | 55-inch: Sony Bravia 55A1E
 Gorgeous picture quality 
 Startling, monolithic design 
 Innovative and excellent sound 
 It's not very bright 
If LG's OLED isn't your thing, spend some time checking out Sony's version.
The 55A1 – and the A1 OLED series overall – are crowd pleasers in just about every way. Their 'picture only' design has been beautifully realized, managing to be simultaneously subtle and dramatic. 
Their vibrating screen delivers a far more powerful and effective sound performance than I'd thought possible, too. The real stars of the show here, though, are the A1's exquisitely detailed, contrast-rich and colourful pictures. 
These prove emphatically what we've long suspected: More brands using OLED technology can only lead to good things. 
Only it's exceptionally high price tag prevents it from toppling LG's budget panels.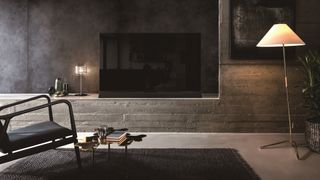 This polished Panasonic 4K Pro HDR OLED is picture-perfect
65-inch: Panasonic TH-65FZ1000M
Incredible color detail
Stunning black levels
Slim design
Outdated OS
Slightly weak bass levels
The TH-65FZ1000M is a luscious OLED that puts performance first. Its colour handling is class-leading, and its HDR talents are a match for any of its rivals. In fact, it just might offer the best picture performance that we've seen on a 4K OLED to date. 
The TH-65FZ1000M isn't the complete package, lacking as it does Dolby Vision and Atmos compatibility, but it wins more arguments than it loses. We suspect you'll appreciate the easy sophistication of its smart platform, the quality of that low-lag game mode, and the sheer musicality of the Technics soundbar. 

Continue on to page two to read about what to look for when buying a TV!