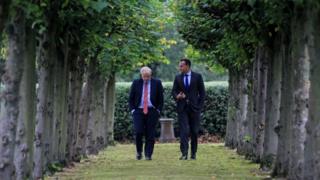 Prime Minister Boris Johnson and his Irish counterpart Leo Varadkar agree they can "see a pathway to a possible deal" after talks, Downing Street says.
The leaders spoke for over two hours, including a one-to-one discussion during a walk in the grounds of Thornton Manor in north-west England.
Mr Varadkar said Thursday's "positive" meeting was "sufficient to allow negotiations to resume in Brussels".
Brexit Secretary Stephen Barclay will meet the EU's Michel Barnier on Friday.
On Wednesday, EU leaders accused the UK of proposing untested ideas, adding that progress had been limited.
A crunch EU summit next week on 17 and 18 October is seen as the last chance for the UK and EU to agree a deal ahead of 31 October deadline.
After the meeting, Mr Varadkar told reporters the talks were at a "very sensitive stage" but were "very positive and very promising ".
He said he was now "convinced" the UK wants an agreement, saying: "I do see a pathway towards an agreement in the coming weeks."
However, there were still issues over the issue of "consent and democracy" and ensuring there is no customs border.
The Brexit proposals from Mr Johnson includes a provision for the consent of Northern Ireland's politicians to be sought every four years – meaning the arrangement could, in theory, continue indefinitely.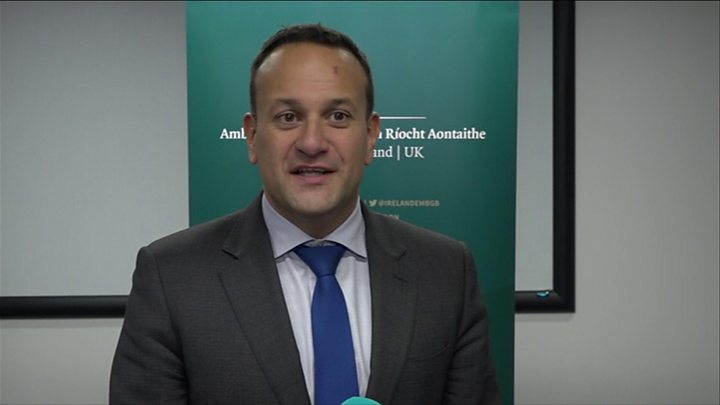 "It remains our position that there can't be a hard border between north and south," he added.
A joint statement said the prime minister and Taoiseach (Irish prime minister) had a "detailed and constructive discussion".
"Both continue to believe that a deal is in everybody's interest," the statement said. "They agreed that they could see a pathway to a possible deal."
The talks concentrated on "the challenges of customs and consent", Downing Street said.
"They agreed to reflect further on their discussions and that officials would continue to engage intensively on them."
Mr Johnson put forward fresh proposals for a Brexit deal last week, but Mr Varadkar had previously said "big gaps" remain between the UK and the EU.
Cabinet minister Michael Gove, who has responsibility for the UK's no-deal preparations, said: "I have to prepare for every eventuality but I'm hopeful following the good conversation that they had that we can make good progress in the days ahead."
What are the PM's border plans?
Under Mr Johnson's proposals, which he calls a "broad landing zone" for a new deal with the EU:
Northern Ireland would leave the EU's customs union alongside the rest of the UK, at the start of 2021
But Northern Ireland would continue to apply EU legislation relating to agricultural and other products, if the Northern Ireland Assembly approves
This arrangement could, in theory, continue indefinitely, but the consent of Northern Ireland's politicians would have to be sought every four years
Customs checks on goods traded between the UK and EU would be "decentralised", with paperwork submitted electronically and only a "very small number" of physical checks
These checks should take place away from the border itself, at business premises or at "other points in the supply chain"
The prime minister has insisted the UK will leave the EU with or without a deal at the end of the month.
That is despite the so-called Benn Act – passed by MPs last month – demanding he request a delay to the Article 50 deadline from the EU until January 2020 if a deal has not been agreed before 19 October.
On Wednesday, Business Secretary Andrea Leadsom suggested the PM was gearing up to bypass legal obstacles to a no-deal Brexit by sending one letter requesting an extension and, in the same instance, submitting a second memo telling European leaders he does not want one.
Asked on ITV's Peston programme whether the idea of sending two letters to the EU was a possible loophole, Ms Leadsom replied: "Absolutely."
In a speech in Northampton, Labour leader Jeremy Corbyn reiterated that his party would agree to a general election as soon as no-deal has been taken "off the table", as the PM "can't be trusted not to break the law".
He also accused Mr Johnson of "using the Queen" to deliver a "pre-election Tory party political broadcast" at next week's state opening of Parliament.
He told party supporters that the government had "no obvious means" of getting new laws passed, and holding a Queen's Speech before an election was a "cynical stunt."
Timeline: What's happening ahead of Brexit deadline?
Monday 14 October – The Commons is due to return, and the government will use the Queen's Speech to set out its legislative agenda. The speech will then be debated by MPs throughout the week.
Thursday 17 October – Crucial two-day summit of EU leaders begins in Brussels. This is the last such meeting currently scheduled before the Brexit deadline.
Saturday 19 October – Special sitting of Parliament and the date by which the PM must ask the EU for another delay to Brexit under the Benn Act, if no Brexit deal has been approved by Parliament and they have not agreed to the UK leaving with no-deal.
Thursday 31 October – Date by which the UK is due to leave the EU, with or without a withdrawal agreement.