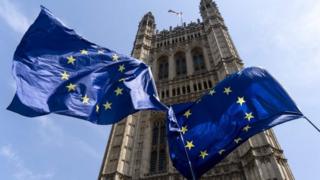 Boris Johnson has repeatedly said the UK is leaving the EU on 31 October. But, by law, he is now effectively compelled to write a letter asking the EU for an extension.
So what exactly is this law and how might the government try to avoid another Brexit delay?
What does the Brexit extension law say?
In September MPs passed a new law – introduced by Labour's Hilary Benn – designed to stop Mr Johnson pushing through a no-deal Brexit on 31 October.
Under the "Benn Act", Mr Johnson would be required to request a three-month Brexit delay unless he can pass a deal or get MPs to approve a no-deal exit by 19 October.
On 19 October, an amendment to Mr Johnson's new Brexit deal – put forward by expelled Conservative MP Sir Oliver Letwin – was passed saying MPs would not agree to a deal until legislation enshrining it in UK law was passed. That effectively brings the requirements of the Benn Act into force.
After the Letwin amendment passed, Mr Johnson said: "I will not negotiate a delay with the EU and neither does the law compel me to do so".
It's not yet clear exactly what he intends to do but what possible options might the government be looking at?
Two letters
The law would force the prime minister to request the extension via a letter – it even sets out the exact wording.
One idea that has been floated is for Mr Johnson to follow the rules but write a second letter, telling EU countries that he actually does not want an extension.
This could lead EU countries to decide not to grant the extension as it would be clear it is not what the UK government actually wants.
In this scenario it is possible the EU could simply ignore the second letter and just grant the extension.
Persuade someone to reject
Any extension to the Brexit deadline would have to be agreed to by all EU member states. So, theoretically, Mr Johnson could comply with the law by writing the letter, but persuade just one country to veto it.
But persuading a country to side with the departing UK over their European neighbours could be a long shot.
MPs vote to reject an EU extension
If the EU grants an extension but proposes a date other than 31 January 2020, MPs would have the power to reject the proposal, therefore leaving us heading towards a no-deal exit.
Ignore the law and wait for the courts
The most simple option for the prime minister is to sit on his hands and refuse to write a letter. This would almost certainly lead to legal action and constitutional experts have suggested he would face almost certain defeat.
Mr Johnson could bank on the legal process taking over 12 days to complete, which would take him past the Brexit deadline before being forced to ask for an extension,
Refuse to resign
One option open to MPs who oppose a no-deal Brexit is to defeat the government in a vote of no confidence. In this scenario, an alternative government could emerge and take over from Mr Johnson if it can prove it has the confidence of a majority of MPs.
By convention, Mr Johnson would visit the Queen to resign and recommend the appointment of whoever the leader of the alternative government is.
In theory, he could refuse to leave and become a squatter behind the black door of No 10. This could put the Queen in an unprecedented position as she may be forced to sack him.