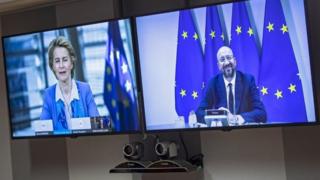 New momentum is needed in UK-EU negotiations on their future relationship, both sides have said after high-level crunch talks.
Boris Johnson and Ursula von der Leyen spoke via video link after both sides said no major progress had been made towards a trade deal this year.
They said they would "work hard" to deliver a relationship and ratify a deal before the end of 2020.
Mrs von der Leyen said they "agreed to deliver the best deal" for citizens.
The EU also noted the UK's decision not to extend the transition period, which ends in December.
In a joint statement issued after Monday's meeting via video conference call, the UK and EU "welcomed the constructive discussions on the future relationship that had taken place".
"The parties agreed nevertheless that new momentum was required," it said.
They have agreed to intensify talks in July, and to find an "early understanding on the principles" underlying any deal.
The UK government has said the talks in July will involve a mix of formal negotiating rounds and smaller group meetings in London and Brussels, if coronavirus guidelines allow.
European Council President Charles Michel, who joined Mrs von der Leyen on the call along with European Parliament President David-Maria Sassoli, said a "broad and ambitious agreement" was "in our mutual interest".
Mr Sassoli tweeted in Latin that "agreements must be kept".
During the call, the PM had been expected to urge "renewed energy" to reach a trade deal "by the end of the summer", ahead of the end of the transition period in December.
Downing Street said he would reiterate that the UK's ambition is for a high quality free trade agreement consistent with others the EU have agreed.
He was also due to make clear that the UK is ready to start trading on World Trade Organisation rules from 1 January if a deal cannot be reached.
Earlier, the prime minister's spokesman said the meeting was seen as a moment to "push negotiations forward" and Mr Johnson welcomed the fact that the EU had agreed to an "intensified timetable" of weekly talks throughout July.
But a French former Europe minister has said the EU is preparing itself for a no-deal Brexit.
MEP Nathalie Loiseau told BBC Radio 4's Today programme: "We are ready either for an agreement or for a no-deal and we are getting prepared more actively to a no-deal considering the circumstances.
"We believe it is possible to have an agreement – it has to be ready in October so that parliaments on both sides can ratify it.
"We believe it is possible because we have the political declaration which we negotiated together, signed together and should respect together – so, yes, the framework is here."
Monday's virtual meeting comes after EU chief negotiator Michel Barnier said there had been "no significant areas of progress" at the last negotiating round earlier this month.
Likewise his UK counterpart David Frost had said progress "remains limited," and negotiators were "reaching the limits" of what could be achieved in formal talks.
Differences between the two sides remain on fisheries, competition rules, police co-operation, and how a deal would be enforced.
Meanwhile, Downing Street confirmed that Mr Johnson and Emmanuel Macron will meet in London on Thursday.
The French president will travel to London to attend official commemorations of 80th anniversary of General Charles de Gaulle's appeal to the French population to resist the German occupation of France during the Second World War.