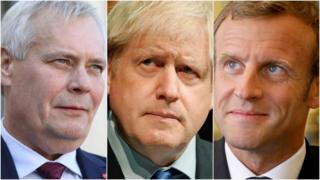 Boris Johnson has two weeks to set out his Brexit plans to the EU, according to Finland's prime minister.
Antti Rinne said he and French President Emmanuel Macron agreed the UK needed to produce the proposals in writing by the end of September, adding if not, "then it's over".
Finland currently holds the EU's rotating presidency.
Mr Johnson has said a deal is possible at a crucial summit of EU leaders on 17 October.
But he has insisted Brexit will happen by the 31 October deadline, with or without a deal.
The UK government said talks with the EU have been making progress since Mr Johnson came into No 10.
A government spokesman said on Wednesday they had made "a number of proposals" as alternatives to the Irish border backstop – the policy aimed at preventing the return of a hard border on the island of Ireland and key sticking point in Theresa May's deal.
But the EU has continued to criticise the UK, saying it had not put any plans in writing.