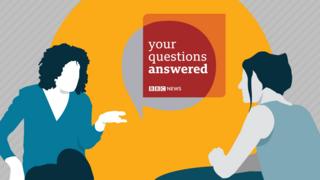 New quarantine rules come into force from 8 June, affecting travellers returning to the UK.
BBC News answers some of your questions and this, and other topics.
Questions and answers
Latest questions
Your questions
Can I travel to Ireland and then onto another country, then back to the UK via Ireland to avoid the quarantine?

from Chris McCann in Sandhurst




BBC News
Reality Check

The short answer to this is no.

It's true that you don't have to go into quarantine if you're returning to the UK from what's known as the Common Travel Area (CTA) – Ireland, Isle of Man and the Channel Islands.

When the government first announced its plans, there was some speculation that to avoid quarantine, travellers from other countries would be able to fly into an airport in the CTA, and then on to the UK and so avoid having to self-isolate.

However, this loophole (termed by some the "Dublin dodge") has now been closed by the government. Travellers will only be exempt from quarantine if they have been in the CTA for 14 days or more.

You will have to show proof of when you entered the CTA, and how long you have spent there – such as a boarding pass or itinerary – when you enter the UK.

I will be back in the UK after 8 June, therefore I will have to quarantine. Will my flatmates have to quarantine as well because of me?

From Matteo in London




BBC News
Reality Check

Unless your flatmates were travelling with you, they do not need to self-isolate or quarantine with you.

However, you must avoid contact with them and minimise the time you spend in shared spaces like kitchens, bathrooms and sitting areas.

You should stay in a well-ventilated room with a window to the outside that can be opened, separate from your flatmates, and if you can, you should use a separate bathroom from them. If you do need to share these facilities, regular cleaning will be required after each person has used them.

Make sure you use separate towels from the other people in your house, both for bathing and showering, and for washing your hands.

Do key workers have to quarantine?


From Mateusz in London




BBC News
Reality Check

Key workers are exempt from having to quarantine – as long as they are not displaying symptoms of coronavirus.

The government has published an extensive list of who is exempt from quarantine. Among others, it includes people working in healthcare and seasonal agricultural workers.

The list details what you'll need to show when you return to the UK, to prove your key worker status. This differs between categories but typically it would include proof of your name and address, the name of your employer and what work you'll be doing.

If I have to quarantine after a holiday and can't work from home will I get paid?

From Emma in Portishead, Bristol




BBC News
Reality Check

Not necessarily.

If you have returned from holiday abroad and have to self-isolate in quarantine, you will not automatically qualify for Statutory Sick Pay (SSP), so it's possible you might have to take the extra time off as annual leave, or else as unpaid leave.

The Department of Work and Pensions says that anyone planning to travel should do so in the knowledge that they will be required to self-isolate on their return.

It adds that employers and staff should discuss and agree any arrangements in advance, and urges employers to take socially responsible decisions.

Meanwhile, the Foreign & Commonwealth Office is still advising UK nationals against taking all but essential international travel.
End of Latest questions

What do I need to know about the coronavirus?
---
What questions do you have about coronavirus? Do you want to ask it on BBC News? Get in touch and we may ask you to send us a video of you asking your question.
In some cases, your question will be published, displaying your name, age and location as you provide it, unless you state otherwise. Your contact details will never be published. Please ensure you have read our terms & conditions and privacy policy.
Use this form to ask your question:
If you are reading this and can't see the form above you will need to visit the mobile version of the BBC website to submit your question or send them via email to YourQuestions@bbc.co.uk. Please include your name, age and location with any question you send in.