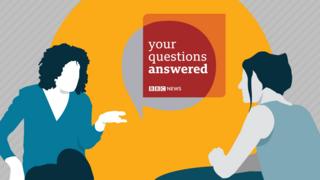 Lockdown restrictions have started to be eased across the UK, but there are still limits on what we are able to do.
BBC News answers some of your questions on what it all means.
Questions and answers
Latest questions
Your questions
How can people begin a new relationship with social distancing in place?

from Debbie in Rayleigh




BBC News
Reality Check

Starting a new relationship is difficult during the current crisis, but not impossible. It is possible now to meet someone from another household, alone or in the company of others, outdoors – either in a public place, or in a back garden.

On the other hand, intimacy and privacy may be more of a problem. People are still being advised to maintain a distance of 2m from anyone not in their household, and it is still not permitted under lockdown regulations to meet someone from another household indoors, either at your home or theirs.

And taking the relationship to a more intimate level is not permitted either. The latest amendment to lockdown regulations states that "no person may, without reasonable excuse, stay overnight at any place other than the place where they are living". There are exemptions to this rule, but none of them include romance.

Can I visit Germany for a three-day business trip?

From Kevin in Stockport




BBC News
Reality Check

It depends on a number of factors.

"Typical" business trips to Germany are not currently permitted except to workers carrying out "essential functions" such as healthcare. A certificate from your employer to that effect will be needed if that is the case.

With the introduction of quarantine restrictions at UK borders from 8 June, returning to the UK will not as straightforward.

Anyone entering the UK from that point will need to self-isolate for 14 days after arrival. There are a number of exemptions to this rule, including UK residents who ordinarily travel overseas at least once a week for work.

Asymptomatic people are regarded as "silent spreaders" – what proportion of the population are they estimated to be and how do you find them?

From Val Holland in Worcester




BBC News
Reality Check

This is the subject of ongoing research, but little is still known about how many people are carrying the virus without knowing it.

Different studies currently suggest a huge range of possibilities for how many "silent spreaders" there are – ranging from 5% to 80% of cases. That was the conclusion of an analysis by Prof Carl Heneghan of the University of Oxford and colleagues who looked at 21 research projects.

The upshot, they said, was that "there is not a single reliable study to determine the number of asymptomatics". And they said that if the screening for Covid-19 is only carried out on people with symptoms – which has been the main focus of UK testing policy – then cases will be missed, "perhaps a lot of cases".

Some scientists believe that asymptomatic cases may be the main force driving the pandemic, and there have been calls for increased testing to establish how many "silent carriers" there may be.

Are you allowed to use the car to pick up another member of the family from a different household, in order to come over and sit in the garden?

From Chris Jerrard in Sunbury on Thames




BBC News
Reality Check

Legally, no, you are not. Being in a private car with someone from another household might not be classed as outdoors, and meeting someone from another household "indoors" is against the law.

The law in England and Northern Ireland only allows more than two people from different households, up to a maximum of six, to meet outside. In Scotland, eight people can meet outside, but they can only be from two households. In Wales, two households of any number of people can meet outside.

You also cannot get a taxi to bring your relative over to your home, as cabs may only be taken for "essential" purposes.
End of Latest questions

What do I need to know about the coronavirus?
---
What questions do you have about coronavirus? Do you want to ask it on BBC News? Get in touch and we may ask you to send us a video of you asking your question.
In some cases, your question will be published, displaying your name, age and location as you provide it, unless you state otherwise. Your contact details will never be published. Please ensure you have read our terms & conditions and privacy policy.
Use this form to ask your question:
If you are reading this and can't see the form above you will need to visit the mobile version of the BBC website to submit your question or send them via email to YourQuestions@bbc.co.uk. Please include your name, age and location with any question you send in.