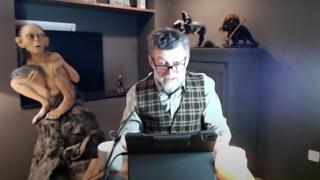 Andy Serkis is reading The Hobbit live and in its entirety on Friday, in an effort to raise money for charity.
The 56-year-old began streaming his online performance of JRR Tolkien's 1937 novel at 10:00 BST.
"Thank you so much for joining me on this huge expedition we're about to go on in our living rooms," Serkis told viewers before he began the reading.
The Gollum actor said over £100,000 had already been raised for NHS Charities Together and Best Beginnings.
The actor paused at 11:00 BST to observe a two-minute silence for VE Day.
The only other breaks he will take throughout the day will be to go to the loo.
Around 15,000 viewers watched the first hour of his reading, dubbed the "Hobbitathon".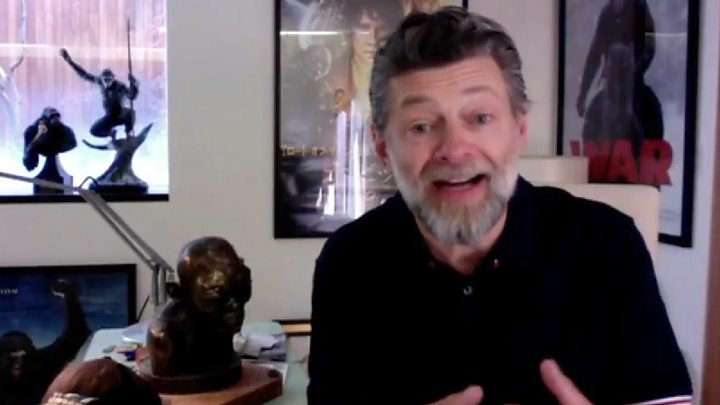 Serkis played the corrupted character, originally known as Smeagol, in the The Lord of the Rings and Hobbit films.
Before he began the reading, Serkis thanked "the NHS and all the charities who are out there doing important work saving our lives and keeping us safe".
He joked: "We've already reached £100,000, so in fact, I don't even have to do it, goodbye," before pretending to get up and leave.
His reading is expected to last for up to 12 hours, with viewers watching via his YouTube stream and Go Fund Me Page.
"So many of us are struggling in isolation during the lockdown," Serkis said on Thursday.
"While times are tough, I want to take you on one of the greatest fantasy adventures ever written, a 12-hour armchair marathon across Middle Earth whilst raising money for two amazing charities which are doing extraordinary work right now to help those most in need."
The British actor was awarded the Bafta film award for outstanding British contribution to cinema earlier this year for his groundbreaking motion capture work as Gollum, as well as on films like King Kong and the Planet of Apes movie series.
'Back in five minutes'
Serkis joked he might need to put up a "back in five minutes" sign, when nature calls, or when he needs a spot of precious lunch, but aside from that he was preparing to throw himself fully into the quest.
"I'm not going to be doing impersonations of the great voices like Ian McKellen's and Martin Freeman's in our film but I will probably nod to them in some way," he told PA.
"I will try to find my own version but I will be giving it welly."
"It's not going to be a dry reading, it's live, and there will be lots of, I'm sure, fumbles and stumbles and trips and it's not an audio recording where we go back and correct, it's happening live, and if the cat walks in and jumps up on the desk, that is what is gong to happen," he added.
---
Follow us on Facebook or on Twitter @BBCNewsEnts. If you have a story suggestion email entertainment.news@bbc.co.uk.