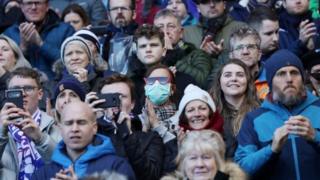 The prime minister has chaired an emergency Cobra meeting to decide whether to bring in measures to delay the spread of coronavirus in the UK.
The meeting was expected to consider whether "social distancing" measures should be phased in.
These could include banning of big events, closing schools and encouraging home working.
It comes after a man in his 60s became the UK's third death linked to the Covid-19 virus.
Ministers are also meeting with sports bodies and UK supermarkets to discuss their response to the outbreak, which could include staging matches behind closed doors.
It comes as Ireland's Six Nations rugby match in France on Saturday is reported to have been postponed, following an earlier decision to postpone England's match in Italy.
But Culture, Media and Sport Secretary Oliver Dowden told BBC Breakfast that the current medical advice was that there was no reason to avoid or cancel sports events in the UK.
"We are guided by the facts and we are guided by the evidence. At the moment the advice is clear from the chief medical officer: there isn't a need to cancel such events," he said.
Another two cases of the Covid-19 coronavirus were confirmed in Wales on Monday morning, bringing the UK total to 280.
The UK is currently in the first phase – "containment" – of the government's four-part plan to tackle the spread of coronavirus.
The Cobra meeting is expected to consider whether the UK should officially move into the "delay" phase.
The government has previously said "social distancing" measures to slow the spread of the virus could include a ban on sporting events and other large gatherings, and encouraging people to work from home rather than use crowded trains and buses.
Such a step would require agreement from chief medical officer Prof Chris Whitty and chief scientific adviser Sir Patrick Vallance, who are due to be at the meeting.
'The next stage of the coronavirus fight'
It seems certain we will move to the next stage of the fight against coronavirus, probably this week.
That will involve going from trying to contain the spread of the virus to accepting there is going to be community transmission and looking at ways to slow its spread.
There are plenty of drastic options on the table from closing schools to banning public gatherings.
But health officials are unlikely to recommend these immediately. Instead, it will be a more gradual, phased approach.
That could involve people being asked to consider ways we can all reduce our social contact. It could be working from home, staggering our commute or cutting back on socialising.
The government's clear message will be that we all have a role to play in tackling this – as individuals, as employers and as communities.
A European Union expert said the UK had only a "few days" to implement measures to prevent an outbreak like Italy's, which is the worst outside China with 7,375 confirmed cases and 366 deaths.
Sergio Brusin from the European Centre for Disease Prevention and Control told the BBC's Victoria Derbyshire programme: "The UK is in the same situation Italy was two weeks ago."
Environment Secretary George Eustice will also discuss contingency plans with supermarket chief executives, including proposals on how to support vulnerable groups who may have to self-isolate.
As supermarkets restrict sales of some products to halt panic-buying, a survey suggested one in 10 shoppers are stockpiling. Both the government and retailers say stockpiling is unnecessary.
Shadow chancellor John McDonnell accused the government of offering only "vague statements" in response to the outbreak, saying it needed to guarantee sick pay for all workers and address issues such as a shortage of 100,000 NHS staff.
Flights cancelled
The latest person to die – a man in his 60s with significant underlying health problems – had recently returned from Italy, Public Health England said on Sunday.
The man was being treated at the specialist infectious diseases unit in North Manchester General Hospital after testing positive for coronavirus.
Prof Whitty said health officials were tracing people who may have been in contact with the man while he was carrying the virus.
The Foreign Office has warned Britons to avoid large parts of northern Italy under a coronavirus quarantine, unless their journey is essential.
Those travelling from locked-down areas have also been advised to self-isolate if they returned to the UK in the last 14 days – even if they have shown no symptoms.
Travellers from the rest of Italy are only told to self-isolate and call 111 if they have a cough, fever or shortness of breath.
British nationals are still able to depart Italy without restriction, but some airlines – including EasyJet and British Airways – have cancelled several flights to and from affected areas.
Mr Dowden, the culture secretary, told BBC Radio 5 Live "enhanced measures" were in place to screen passengers from Italy – but the only one he identified was training airline staff to spot the symptoms of Covid-19.
Public Health England said passengers on flights from northern Italy are also issued with information about symptoms and necessary actions to take, which will be extended to all flights from Italy by Wednesday.
However, the Unite union, which represents many cabin crew, said "there has been no training" for its members working on flights from northern Italy.
The Foreign Office said it is "working intensively" to arrange a flight home for 140 Britons on board the Grand Princess cruise ship, which is quarantined off the coast of California after 21 people tested positive for the coronavirus.
Neil Hanlon, from Bridgwater in Somerset, told BBC Breakfast that food on board has become "very limited" and he was "gutted" that it may take until later in the week until he and his wife Victoria can fly home.
Amid concerns that fake news about the coronavirus is causing confusion, a specialist unit to combat disinformation has been set up.
Teams from across Whitehall have been brought together to identify and respond to disinformation in a bid to limit its spread.
As of Sunday, 23,513 people had been tested across the UK, with 273 cases proving positive for the virus.
On Sunday evening, five more cases in Northern Ireland were announced, bringing the total in the country to 12 and 278 in the UK.
And on Monday morning, two more people in Wales tested positive for the coronavirus, taking the total number there to six and bringing the UK total to 280.
In other developments: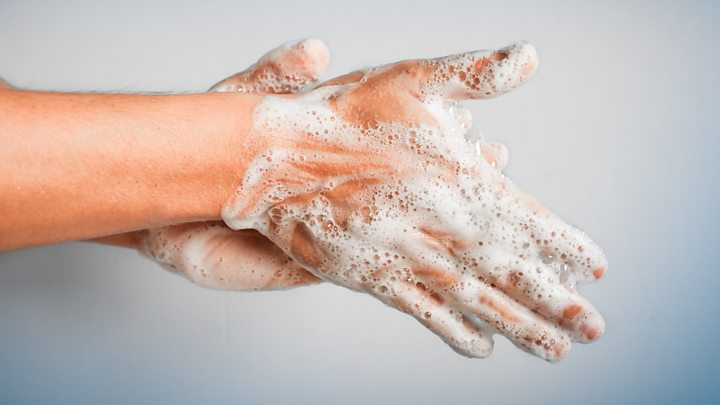 ---
Have you or anyone else you know been affected by the coronavirus? You can tell us your story by emailing haveyoursay@bbc.co.uk.
Please include a contact number if you are willing to speak to a BBC journalist. You can also contact us in the following ways: