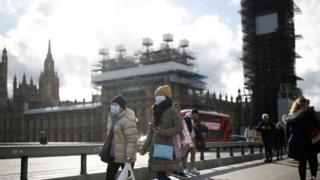 A cabinet minister is self-isolating while awaiting the results of a coronavirus test.
The minister, whom the BBC is not naming, was tested after coming into contact with health minister Nadine Dorries at a Downing Street reception.
Ms Dorries has tested positive for the virus and is self-isolating at home.
It comes as the UK is expected to move to the "delay" phase of its coronavirus response when the government's Cobra committee meets on Thursday.
That is the stage at which "social distancing" measures will be considered – which could include restrictions on public gatherings above a certain number of people.
Health minister Edward Argar, a colleague of Ms Dorries, has also self-isolated on the advice of officials.
Self-isolating is the advice currently being given to people who have recently returned from affected countries or have been in close contact with a person who has tested positive for the virus.
It means staying at home, not going to work, school or other public places, and avoiding public transport or taxis, in an attempt to avoid spreading the virus.
Delay phase
Thursday's emergency Cobra committee meeting will be chaired by the PM, a day after the UK saw its biggest rise in cases – up to 460, with two more deaths, bringing the total to eight.
For now, the UK remains in the "containment" phase of the outbreak, which aims to halt the spread of the disease.
The delay phase could see the introduction of "social distancing" and other measures to slow its progression.
The emergency Cobra committee last met on Monday, when it was decided the UK should remain in the containment phase.
The UK's strategy on responding to the virus has three phases: containment, delay, mitigation and – running alongside these – research.
The move to delay could results in people who show even minor signs of respiratory tract infections or fever soon being told to self-isolate.
The delay phase aims to lower the peak impact of the virus and push it away from the winter season – when pressures on the NHS are more acute because of issues including seasonal flu.
Delaying the impact of the outbreak could also buy time for the testing of drugs and initial development of vaccines and/or improved therapies or tests to help reduce the impact of the disease.
Earlier, Chancellor Rishi delivered his first Budget, pledging billions of pounds of investment to get the country through the coronavirus outbreak.
He also said the NHS would get "whatever resources it needs".
It came as the World Health Organization upgraded the status of the outbreak to a pandemic,