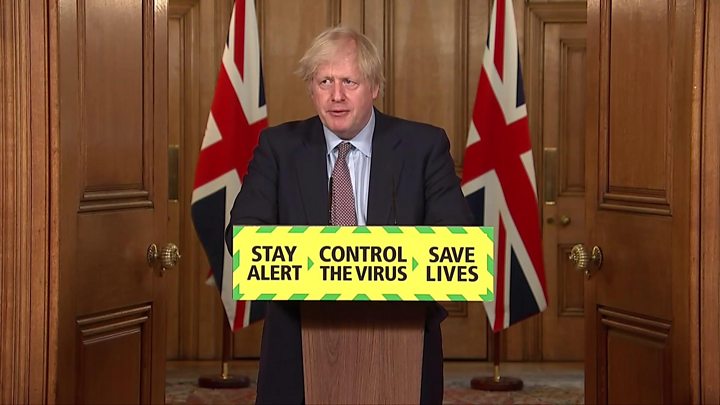 Prime Minister Boris Johnson has urged the public not to move gatherings indoors if it rains, as parts of the UK brace themselves for wetter weather.
He said breaking the lockdown rules could "undermine and reverse all the progress that we've made together".
Since Monday, more than two people have been allowed to meet outside in the UK, though rules vary in each nation.
Mr Johnson said measures were relaxed because the risk of transmitting coronavirus was lower outdoors.
Many people have taken advantage of the sunny weather as restrictions eased earlier this week in parts of the UK – even taking the PM's advice to invite up to five people for barbecues in their garden.
But BBC Weather is forecasting cooler conditions and rain in the upcoming days – and Mr Johnson was particularly keen to stress that people's response should not be to move their social gatherings indoors when rain falls.
At the government's daily coronavirus briefing, the prime minster said: "Some of you may be tempted to move the gatherings you've been enjoying outdoors indoors out of the rain. I really urge you: don't do that.
"The risks of passing on the virus are significantly higher indoors which is why gatherings inside other people's homes are still prohibited.
"Breaking these rules now could undermine and reverse all the progress that we've made together."
It comes as the UK recorded the deaths of another 359 people who tested positive for coronavirus.
Some 39,728 people have now died after testing positive, bringing the UK close to becoming the second country in the world to pass 40,000 deaths, with only the US recording more.
The government's chief scientific adviser Sir Patrick Vallance said deaths were "not coming down as fast as we would like".
He said the UK still had "relatively large numbers" of new cases, which were "not coming down fast".
"That gives relatively little room for manoeuvre. We have to tread very cautiously," he said.
The latest figures showed more than 1,800 a day had tested positive for the virus, but Sir Patrick said official estimates suggested the true figure was significantly higher.
What are the rules on meeting up?
In England, groups of up to six people from different households can gather outside, in parks or private gardens.
In Scotland, two separate households – up to a maximum of eight people – can meet outdoors, ideally travelling no more than five miles.
In Wales, any number of people from two different households can meet each other outside.
In Northern Ireland, groups of up to six people who do not live together can meet outdoors.
In other developments: