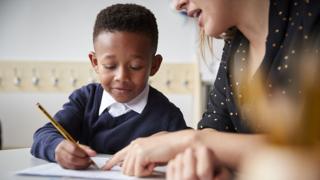 It is hoped that some schools in England will open to more pupils from June.
When – and how – will schooling return to anything approaching normal again?
When will schools reopen?
In England, ministers say schools should prepare to begin to open for more pupils from 1 June.
This would be for those in nursery and pre-school, Reception and Years 1 and 6 at primary school. At secondary school and college, Years 10 and 12 would return first.
Schools in Wales will not reopen on 1 June, while those in Scotland and Northern Ireland may not restart before the summer holidays.
Is it safe to reopen schools?
Young children are superspreaders of other diseases, such as flu, but so far appear to be at low risk of becoming very ill from coronavirus.
However, nine education and teachers' unions have expressed concern about schools reopening next month – saying it was still too early to be safe.
The unions called for a delay until a full testing regime was in place and said that "classrooms of four and five-year olds could become sources of Covid-19 transmission and spread".
And the Department for Education's chief scientific adviser, Osama Rahman, said he had not assessed the safety guidance given to schools.
How will schools reopen?
The Department for Education has issued guidance to schools in England.
It says they should:
Reduce class sizes and keep children in small groups without mixing with others
Stagger break and lunch times, and school arrival and departure times
Clean more frequently, and reduce the use of shared items and outdoor space
Do I have to send my children to school?
At present, it is not compulsory for key worker parents to send their children to school, and there are no fines for those who have not taken up the places available to them.
It is expected that this temporary arrangement – where usual sanctions do not apply – will continue for all parents of any year groups going back in England during the summer term.
What about disadvantaged children?
Approximately 2% of pupils – those considered vulnerable and the children of critical workers – are attending school in person.
The government is urging teachers and local authorities to encourage more youngsters from these backgrounds to go to classes each day.
What's happening in other countries?
Denmark was the first European country to start allowing children up to the age of 11 back to school. Germany has also partially reopened schools for young children and those taking exams, with others to follow later in the term.
Primary schools and nurseries in France will reopen on Monday, with schools for 11 to 15-year-olds following a week later. Schools for 15 to 18-year-olds will open in June.
Schools in the Republic of Ireland will not reopen until August, while Italy and Spain are to keep their schools shut until September.
What's the current situation?
Schools, nurseries and childminders in the UK are still providing care for children whose parents are key workers "critical to the Covid-19 response", and who cannot be safely cared for at home.
They are also providing care for children who are known to be vulnerable – those with a social worker, for example, or those with special educational needs.
The most recent figures (30 April) show that 191,000 children are currently attending school – 2% of those who normally attend. Of that figure, 58,000 are classed as vulnerable.
How are children currently being educated at home?
Schools have tried to continue a limited curriculum online, relying on parents and guardians to supervise.
Educationalists say that parents should not be expected to do the teacher's job, but they can try to maintain a routine of learning and study habits – even if it's only for an hour or two a day.
To support home learning, the BBC has also launched a major programme of expanded educational content on its BBC Bitesize service, including regular daily lessons in English, Maths and other core subjects.
What about exams?
Summer exams have been cancelled in England, Wales and Scotland. This includes GCSEs and A-levels in England and Wales, plus primary school Sats national curriculum tests in England. In Scotland, Highers and Nationals will not be going ahead.
Exam watchdogs have been working together on alternative arrangements.
---
Have you been affected by the school closures due to coronavirus? Please get in touch by emailing haveyoursay@bbc.co.uk.
Please include a contact number if you are willing to speak to a BBC journalist. You can also contact us in the following ways: