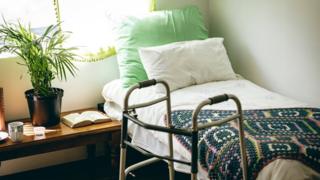 There are "undoubtedly lessons to learn and more work to do" in light of the scale of coronavirus deaths in care homes, Jeane Freeman has said.
It was confirmed on Wednesday that more people have now died with the virus in Scotland's care homes than in hospital.
There has been criticism of the way in which hospital patients were discharged into many homes early in the pandemic.
The health secretary said ministers had "followed the best advice" and taken decisions they "believe to be correct".
There have been a total of 1,818 deaths linked to the virus in care homes.
This is three more than the 1,815 coronavirus deaths that have been recorded in Scotland's hospitals since the outbreak began in March.
And three quarters of registered deaths involving coronavirus so far have been aged 75 or over.
The number of people dying in care homes has been falling in recent weeks, with the 68 deaths that were recorded last week being 56 fewer than the previous week.
But the Scottish government has faced criticism after it emerged that nearly 1,000 hospital patients were discharged to care homes at the start of the crisis – without being tested.
Location of Covid-19 deaths
Ms Freeman told MSPs on Holyrood's health committee that it had been "entirely appropriate" for those who no longer required hospital care to be discharged, amid fears the NHS could be overwhelmed by coronavirus patients.
She said "very clear" guidance had been given to care homes about screening residents for symptoms and having them remain in their rooms "as much as possible", and to make sure people were not "transferred inappropriately".
The Scottish government did not make it mandatory for people being admitted to care homes to be tested for coronavirus until 21 April, with ministers saying there had been concerns about the reliability of testing people who did not have symptoms.
'Lessons to learn'
Ms Freeman said "at the time we took all the steps we could reasonably have been expected to take", but added that "as always with these matters as knowledge about the virus and the practicalities of dealing with it develops, then we will take different judgements and different views".
The health secretary said: "We have followed the best advice and taken the judgements we believe to be correct from the outset out this pandemic. There are undoubtedly lessons for us to learn and more work for us to do.
"But it is worth reminding members that 38% of adult care homes have lodged no notification of suspected Covid-19 incidents to the Care Inspectorate since the start of the epidemic, and 58% of adult care homes have not registered a case of suspected Covid-19 in the last 14 days."
First Minister Nicola Sturgeon said on Wednesday that the falling number of deaths was evidence that "the package of measures we are taking in care homes to protect residents is having an effect".
Scottish Conservative leader Jackson Carlaw said care homes were being "let down" by the Scottish government, and called for a rapid expansion in the number of tests that are being carried out.
Mr Carlaw said Scotland had one of the poorest testing records in the UK, and also in comparison to countries across the world.
He added: "It would take around 7,000 tests a day to ensure all care home staff were covered – but the SNP can't even get close to that figure on the whole, let alone just for these workers.
"The World Health Organisation urged governments across the world to 'test, test, test'. The SNP's approach has been dither, delay and distract."