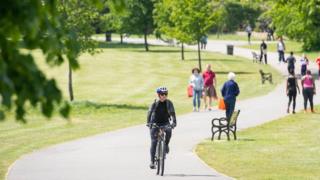 People in England can spend more time outside, meet a friend at the park and move home, as the government begins easing some lockdown measures.
Under the new rules, garden centres can reopen and people can meet one person from outside their household.
Sports that are physically distanced – such as golf – are also now permitted.
Meanwhile, some employees who cannot work from home are being encouraged to return to their workplaces.
It follows a speech by Prime Minister Boris Johnson on Sunday in which he unveiled a "conditional plan" aimed at reopening society, much of which has been in lockdown for seven weeks.
This has led to a divergence in lockdown rules between the UK government and the devolved administrations, with Scotland, Wales and Northern Ireland keeping stricter measures in place and retaining the message to stay at home.
It comes as figures from the Office for National Statistics showed the UK economy shrank at the fastest pace since the financial crisis in the first quarter of 2020.
In England, employers have been issued with guidelines on keeping workplaces as safe as possible, including the use of staggered shifts and frequent cleaning.
And those who flout the rules could face criminal proceedings, the Health and Safety Executive watchdog has warned.
Frances O'Grady, general secretary of the Trades Union Congress, said the new guidelines for employers were "a step in the right direction" but "the real test will be delivery".
She said employers should publish a risk assessment and if workers had any concerns they could contact the Health and Safety Executive hotline.
"It's really important to remember that workers do have that right in law not to work if it would put them in imminent danger," she told BBC Breakfast.
Asked how it was possible for people to maintain social distancing on packed buses and Tubes as more people returned to work, Transport Secretary Grant Shapps said the government was urging people to cycle and walk where possible.
"The absolute key here is for anybody who can to make alternative arrangements for travel," he told BBC Breakfast.
He added that even if the public transport network was running at full capacity, only one in 10 people would be able to travel while keeping to social distancing rules.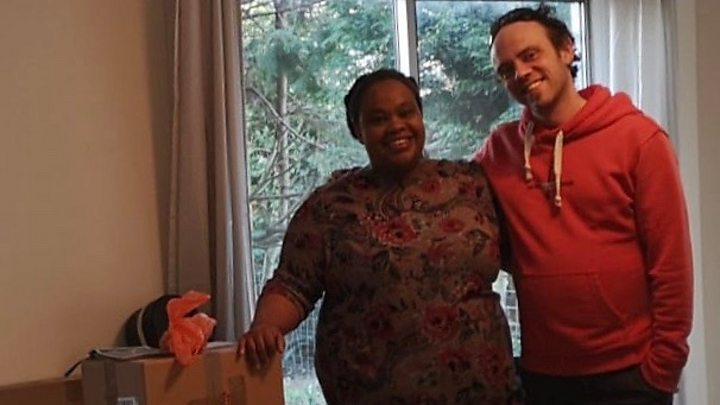 In other developments, estate agents can now reopen, viewings can take place and removal firms and conveyancers can re-start operations, so long as social-distancing and workplace-safety rules are followed.
Anyone who has already bought a new home will now be able to visit it to prepare for moving in.
About 450,000 people are estimated to have had their moving plans put on hold during the crisis, with property website Zoopla suggesting £82bn worth of deals have been stalled.
There was also news late on Tuesday for childminders who were told government guidance had been amended to allow them to reopen so long as they cared for children from just one household.
The updated lockdown regulations, which were presented to Parliament on Tuesday, also allow people to leave their homes to collect goods ordered from businesses or to travel to waste or recycling centres.
Some outdoor sports can get under way again, with golf clubs and tennis courts expected to reopen to the public. Playgrounds, however, will stay shut.
Restrictions have also been lifted on how far people can travel to get to the countryside, national parks and beaches in England.
However, people have been warned to respect local communities, keep their distance from others and avoid hotspots or busy areas.
The government is still advising people to only use public transport for essential journeys and reiterated that staying overnight at a holiday or second home was not allowed.
Those who break the rules will now face fines starting at £100 in England, and this will double on each further repeat offence up to £3,200.
National Police Chiefs' Council chairman Martin Hewitt said officers would "continue to use common sense and discretion" in policing the new rules.
He told BBC Breakfast police would be encouraging people to go home if they were not out for a "legitimate reason" and enforcement and fines would be used "only as a last resort".
He said officers would not be setting up border check points to prevent people travelling from England to Wales for leisure.
However, he added: "I would just say to everybody, think really carefully about whether it's reasonable to cross the border for recreation or for sport and understand what the rules are in the country that you are entering."
It comes after Chancellor Rishi Sunak announced on Tuesday that the furlough scheme, currently supporting 7.5 million jobs, will be extended until the end of October.
From August, however, employers will be expected to pick up a share of the bill, as the economy reopens.
And for the self-employed, the chance to apply for an income support grant of up to £7,500 opens from 08:00 BST.
---
Are you returning to work today? Tell us about your commute by emailing haveyoursay@bbc.co.uk.
Please include a contact number if you are willing to speak to a BBC journalist.