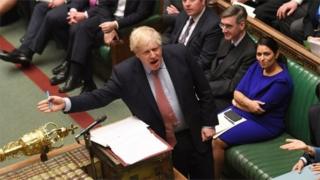 Conservative and Labour MPs not scheduled to put a query to Boris Johnson have been asked to stay away from Prime Minister's Questions.
Amid fears over coronavirus spreading at Westminster, the government chief whip asked politicians "respectfully" to "adhere to this advice".
Labour urged its MPs to stay away in order to avoid "crowding".
Prior to these decisions, MPs from both main parties announced they would not be attending.
Conservative Michael Fabricant tweeted that Westminster was a "major hotspot for #covid19UK".
He added: "Yesterday, a colleague suddenly sneezed in the House of Commons Chamber before he could catch it in his hands, let alone a tissue. I'll watch #PMQs from my office!"