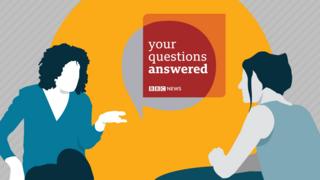 As the NHS launches its Test and Trace scheme to help halt the spread of Covid-19, BBC News answers your questions on how it will work.
Questions and answers
Latest questions
Your questions
How will we know the difference between a genuine contact tracer and a potential scammer?

from James Wilson in Nuneaton




BBC News
Reality Check

If you are concerned about whether a call, text or email has genuinely come from the NHS Test and Trace service, you can visit its web page which lists the official phone number 0300 013 5000 and other contact details.

Genuine contract tracers will never ask you for any financial information such as credit card or bank details.

They will also not ask you to set up a password or Pin over the phone, or to call a premium rate number, such as those starting 09 or 087.

If you don't want to talk over the phone, you can ask for an email or text inviting you to log into the web-based service instead.

How will people who don't have a mobile phone be able to submit that they have symptoms?

From Lorna Miller in Liverpool




BBC News
Reality Check

People experiencing symptoms will be asked to report this as soon as possible and order a test.

You can either do this via the NHS website or if you do not have access to the internet you can dial 119.

The Test and Trace service may contact you by text message, email or phone.

The only part of the process which will need a smartphone is the contact tracing app. That has not yet been launched outside the Isle of Wight.

When it is, it will provide extra information for contact tracers, but they will still be able to do everything else via a landline or online.

Are tracers going to track those people who tested positive before Wednesday?

from Elaine Piper in Doncaster




BBC News
Reality Check

No.The Department of Health says the service will begin tracking those who tested positive in England on Wednesday and going forward.

Anyone who tested positive before that should already be self-isolating for at least seven days, with other members of their household self-isolating for 14 days

I work in a care home so if I test positive, does that mean the whole staff team needs to self-isolate?

from Iva




While most NHS contact tracers won't be trained health professionals, there is also a clinical team of local public health experts which will deal with more complex cases.

The Department of Health says if someone who works in a care home tests positive, it will be escalated to this team and it will work with the care home to agree the best course of action.

It will consider things like whether personal protective equipment was worn and whether staff had been able to remain at a distance from each other.

What if a person who tested positive has travelled by train? How are you supposed to know the names and contact details of fellow passengers who are strangers?

from Roger Langford in Chapel en le Frith




BBC News
Reality Check

You will only be asked to report contacts known to you, especially anyone in your household, people with whom you've been in close physical contact (less than 1m (3ft)), or have been within 2m (6ft) of for more than 15 minutes.

The government's contact tracing app is not yet up and running. When it becomes widely available, it will be used to track down contacts like strangers with whom you've shared a bus or train carriage.

Will people who have previously tested positive for Covid-19 and have already self-isolated have to self-isolate again?

BBC News
Reality Check

Yes, people who have previously tested positive will be asked to self-isolate again.

That's because there are still a number of uncertainties about whether having coronavirus gives you immunity, or whether people with immunity can transmit the illness to others.

Health Secretary Matt Hancock, who tested positive for the virus in March, told LBC Radio that he would have to isolate if he was approached by a contact tracer.

If an online grocery delivery driver tests positive for Covid-19, would they need to let the Test and Trace service know every customer they've delivered to because they will have handled the food or bags?

From Jan in Wiltshire




BBC News
Reality Check

No. The tracers will be interested in anybody who has had close contact with a person who has tested positive.

Close contact means being less than 1m (3ft) from somebody at any point, or between 1m and 2m away for more than 15 minutes.

There is a small potential risk of contamination if the food or packaging has been handled by someone who has tested positive.

Online shopping customers are generally advised to leave packaged goods for 72 hours if possible before handling them, or to spray and wipe plastic or glass containers with diluted bleach.

Unwrapped fresh goods should be washed under running water and left to dry.
End of Latest questions

What do I need to know about the coronavirus?
---
What questions do you have about coronavirus? Do you want to ask it on BBC News? Get in touch and we may ask you to send us a video of you asking your question.
In some cases, your question will be published, displaying your name, age and location as you provide it, unless you state otherwise. Your contact details will never be published. Please ensure you have read our terms & conditions and privacy policy.
Use this form to ask your question:
If you are reading this and can't see the form above you will need to visit the mobile version of the BBC website to submit your question or send them via email to YourQuestions@bbc.co.uk. Please include your name, age and location with any question you send in.