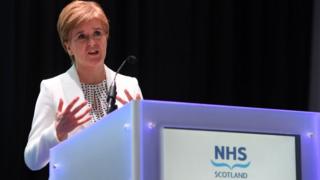 Scotland's coronavirus lockdown should continue for "at least another three weeks", Nicola Sturgeon has said.
The first minister took part in a Cobra emergency committee meeting on Thursday which discussed extending restrictions.
She said that while ministers were "increasingly confident" that lockdown was slowing the spread of the virus, "we are by no means through this yet".
Ms Sturgeon said she would begin to set out the basic principles of an "exit strategy" from the lockdown next week.
But she said her message remained for people to "stay at home", and that some restrictions would remain in place "for a considerable period of time".
A further 80 deaths of people who have tested positive for the virus have now been reported, bringing the total to 779 under that measure. Wider figures covering all cases where the virus is mentioned on a death certificate are issued every Wednesday.
Ms Sturgeon said 1,799 people were in hospital with the virus, 196 of whom are in intensive care.
She said there had not been "significant or sustained increases" in either of those figures, adding: "I firmly believe lockdown is having a positive effect."
The first minister is due to make a further statement following the Cobra meeting with other UK leaders, but she said earlier in the day that she would be advocating continuing the lockdown.
She said: "My clear advice is that we must continue the lockdown measures for at least another three weeks.
"Because while we are increasingly confident that these measures are working, we are not confident enough that the virus has been suppressed sufficiently to lift any of these measures, because the risk of doing that would be a resurgence which would be extremely damaging."
Ms Sturgeon said she wanted to see stringent social distancing rules lifted as soon as possible, but that the government "will not begin to do so until I am convinced we have done as much as necessary to suppress the virus, and that we have a clear plan in place to contain it".
She said the framework for an "exit strategy" would begin to be set out next week, although "we don't yet have all the answers" about how restrictions will eventually be lifted.
Ms Sturgeon said there was likely to be a key role for a system of testing people, tracing those who have had contact with carriers of the virus and then isolating them.
However, she said there would have to be a balance between returning to normality and suppressing the virus, with some restrictions "likely to be in place for a considerable period of time".
She said: "Given we are going to be living with this virus for some time to come, we have to consider what takes the place of the measure we lift.
"That's where testing, tracing and isolating comes to the fore, and I'm clear that has to be a key part of any future strategy to get life back to normal – as much as it's possible to do that."
The Scottish government is expanding its capacity for coronavirus tests, and Ms Sturgeon said it was on track to hit the target of 3,500 tests per day by the end of April.
However, she stressed that these should be used "appropriately", given that the current tests are "only reliable when someone shows symptoms".