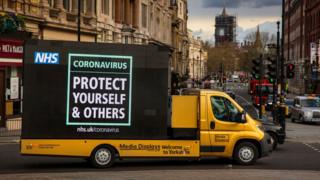 More than one in five deaths being seen in England and Wales is linked to coronavirus, figures show.
The Office for National Statistics data showed the virus was mentioned on 3,475 death certificates in the week ending 3 April.
It helped push the total number of deaths seen in that week to more than 16,000 – a record high and 6,000 more than expected at this time of year.
Normally the number of deaths falls as winter ends.
This is because there is less flu circulating.
'Hugely significant'
ONS official Nick Spike said it was clear the coronavirus pandemic had reversed that trend, saying the rising number of deaths was "hugely significant" given it had happened at the start of April.
"This is not normal," he added.
But what is not clear is what else is contributing to this spike in deaths – the coronavirus cases contributed just over half of the "extra" 6,000 deaths.
It could be that cases of coronavirus are going undetected or other factors related to the lockdown and outbreak are having an impact, such as people not seeking treatment for other conditions or mental health and violence-related deaths going up.
The 16,000 weekly deaths is the highest number seen since the ONS started publishing data in 2005 and tops the highest toll during the 2015 flu outbreak.
Deaths outside hospitals
The government's daily figures for coronavirus deaths only look at hospital cases.
It has led to suggestions there has been an under-reporting of deaths in care homes and other community settings.
The ONS data does look at deaths elsewhere by analysing death certificates rather than relying solely on hospital records.
It shows that one in 10 coronavirus deaths this year having been in the community.
It comes amid reports of a growing number of outbreaks in care homes.
These figures – because they rely on death certificates – relate to a period nearly two weeks ago.
If the reports coming out of the care sector are right it could be that there has been a spike in deaths over the past fortnight or that death certificates are not picking up all the cases.