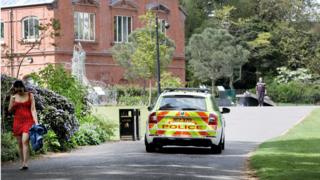 The executive intends to publish a five-stage plan on Tuesday that will set out a slow easing of NI's lockdown.
Ministers have been discussing a blueprint, which will not include projected dates, for lifting some restrictions.
Setting "arbitrary timeframes" would be unhelpful, said junior minister Declan Kearney.
Downing Street has published a conditional plan to ease lockdown, but it mostly applies only in England.
Northern Ireland, Scotland and Wales have their own powers to set and lift restrictions at different rates.
Speaking at the executive's daily press conference, Sinn Féin's Mr Kearney said discussions on Monday had been detailed and positive, but "further work is needed in the next 24 hours".
If the plan is signed off by the executive, the first and deputy first ministers are expected to bring it to the assembly on Tuesday for debate.
The focus on a recovery plan comes as three more Covid-19 related deaths have been recorded by the Department of Health in Northern Ireland, taking its total, mostly comprising of hospital deaths, to 438.
However, that figure is likely to be higher when all fatalities in the community are recorded.
What could Northern Ireland's recovery roadmap look like?
Ministers have said that unlike in England, where Boris Johnson has placed projected dates next to different phases of easing the lockdown, that will not happen in Northern Ireland.
"At any given moment in time we will be operating a staged approach with a three-weekly interval," said Mr Kearney.
The executive wants "sufficient flexibility" to allow it to make modifications in line with scientific advice, as opposed to setting targeted dates that may need to be pushed back if there is another spike in cases.
There will likely only be "minor changes" announced by the executive to take effect this week, on issues such as outdoor exercise and potentially some churches being allowed to facilitate individual prayer.
Each step will be "incremental and cautious", said DUP junior minister Gordon Lyons.
"Social distancing is going to be with us for a very long time.
"Just as it has become a reality of how we shop, it will be a reality of how we work together, study together, socialise and even how we worship – it would be a grave mistake to assume we have beaten Covid-19."
A phased return of schools is not likely until September.
The executive is aware that while its own roadmap may differ from that announced by Downing Street, Northern Ireland is still reliant on Westminster for some financial support.
Many businesses in NI have availed of the government's furlough scheme, allowing employers to temporarily lay off staff while the government pays 80% of their wages during the crisis.
Why is NI taking a different approach?
As the infection has spread at different rates in various parts of the UK, Stormont ministers have said Northern Ireland must follow its own criteria and scientific advice.
The R-value – or reproduction number – is at the heart of the executive's decision to extend the lockdown until at least the end of May.
The R-number shows how many people will get infected for every one person who gets ill.
In Northern Ireland, the R-rate is sitting just below one, at 0.8-0.9, and the executive has said it must remain at a low level before restrictions can begin to be lifted.
Ministers have already extended the lockdown until 28 May, so the earliest the recovery plan could take effect from would be the beginning of June.
In England, fines for breaking lockdown rules will increase to £100 from Wednesday – but the executive has not yet decided if it will follow this approach.
How will it differ from the Republic of Ireland's plan?
The Irish government has already announced a detailed plan for bringing the Republic of Ireland slowly out of lockdown.
It also has five stages, with the first beginning on 18 May and the last phase by 10 August, if the spread of the virus is contained.
Phase one includes the reopening of golf courses on a restricted basis, and outdoor meetings between people from different households.
There are questions about how the Republic of Ireland's plan fits with what the NI Executive will announce.
The two jurisdictions share a 310-mile long border which people cross each day for work or leisure.
At the beginning of the lockdown, it emerged that gardaí (Irish police) had been informed they had no enforcement powers over people from Northern Ireland, who may have breached Covid-19 regulations in the Republic of Ireland.
What is NI's plan for testing?
Northern Ireland has been working to increase its testing capacity since the first case of the virus was confirmed in February.
Health officials say capacity has grown from 40 tests a day, to more than 2,000 tests now, with another laboratory due to start work this week.
However, testing remains limited to people who are being admitted to hospital, live in care homes or are essential workers.
In care homes, where almost half of Covid-19 deaths have been recorded so far, residents and staff are only tested where there is a suspected outbreak, or if they are new entrants to the care home sector.
It is not clear when the Executive intends to move to wider testing within the community.
What is NI's overall picture in terms of confirmed cases and deaths?
There is a considerable difference in the death tolls in the two sets of figures published in Northern Ireland.
While the Northern Ireland Statistical Research Agency recorded 516 deaths by 1 May, the Department of Health – which records deaths of patients who tested positive for coronavirus, and therefore mostly died in hospital – had recorded 365 deaths by the same date.
Nisra's toll is 35% higher because its weekly bulletin, released each Friday, records all fatalities with Covid-19 mentioned on the death certificate, regardless of where the individual died and whether or not they had been tested for the virus.
So although the health department confirmed three more deaths on Sunday, taking its toll to 438, the overall death toll will be significantly higher.
The disparity between the two sets of figures has caused confusion, but the department said there was always a time lag for registering deaths in the community – which can take five days – so Nisra's report could not feasibly be linked to the daily figures.
Nisra's report on Friday showed there were 27 patients in intensive care with Covid-19 symptoms, compared to 58 a month ago.
How does NI compare to the rest of the UK and the Republic of Ireland?
Although comparisons between countries and regions are difficult due to differences in how statistics are compiled, Northern Ireland's death rate (27 per 100,000 of the population) is similar to that of the Republic of Ireland (29 per 100,000) and significantly lower than that of Great Britain (43 per 100,000).
A further 210 coronavirus-related deaths were confirmed across the UK on Monday, taking the total to 32,065.
The Republic of Ireland announced a further 12 deaths on Sunday, bringing its overall death toll to 1,458.