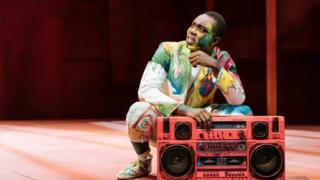 The Royal Shakespeare Company has postponed or cancelled planned performances and events due to the coronavirus crisis.
Summer season plays including The Winter's Tale were called off as well as shows planned for autumn and winter.
The RSC said the decision had been made with "huge sadness" and the box office would be contacting ticket holders.
But it is looking at a possible earlier reopening of the Royal Shakespeare Theatre (RST) in Stratford-upon-Avon.
"The ability to stage the productions in the autumn is dependent on government advice on social distancing and whether it is financially viable for the Company to open its theatres and perform to audiences," it said.
If possible it would re-schedule The Winter's Tale and The Comedy of Errors at the RST, where they were due to open in the spring.
Meanwhile it is moving its planned winter season to next year.
Many theatres and concert halls are struggling after closing their doors during lockdown, with no clear indication of when shows might resume.
The RSC said it terminated contracts and furloughed 90% of employees while seeking income from government schemes.
It has made 17 productions available to watch online, including Richard II with David Tennant, Hamlet and Othello. It has also provided home learning resources.
The Company's artistic director Gregory Doran and executive director Catherine Mallyon said in a joint statement: "These are the most difficult times for all theatres and arts venues, whether big or small.
"It is incredibly sad to see our theatres and those of our partner theatres around the country closed at this time.
"We continue to do everything we can to bring them back to life as soon as possible, so we can welcome back our audiences to share the experience of live theatre with them."
They added: "Theatre and the arts give strength to people in difficult times, they lift the spirits and bring a sense of community, which is desperately needed right now."
Follow BBC West Midlands on Facebook, Twitter and Instagram. Send your story ideas to: newsonline.westmidlands@bbc.co.uk