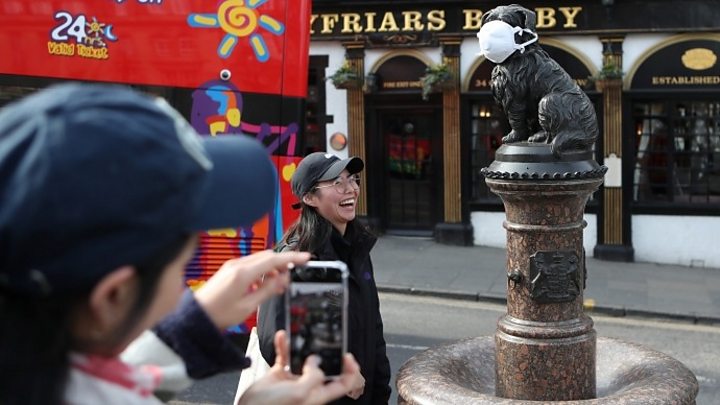 Scotland's tourism businesses, including pubs, hotels and restaurants, have been told to prepare to reopen on 15 July.
Tourism Secretary Fergus Ewing said the date was conditional on moving to the third phase of the route map for easing lockdown restrictions.
He said businesses needed clarity to be able to plan for reopening and he announced a new taskforce.
But he warned the date may change if the evidence on Covid-19 requires it.
Mr Ewing told MSPs the pandemic had left the industry facing unprecedented challenges.
But he said a new taskforce would focus on the sector's recovery needs, actions being taken by the UK government and the development of a new domestic visitor marketing campaign.
Mr Ewing said this was in addition to a £2.3bn package of support for businesses which included measures specific to the tourism and hospitality sector, such as a full year of non-domestic rates relief and specific grant schemes.
Mr Ewing said: "The coronavirus pandemic has presented challenges across the entirety of the Scottish economy, but it is very clear there are exceptional circumstances facing this sector that must be recognised.
"We have acted as quickly as we can to address the significant financial challenges faced by businesses and provide a comprehensive package of support."
'This is very, very welcome'
Tom Ponton, owner of the Oz Bar in Edinburgh, said the news was "very welcome and long overdue" after a "very anxious period" for the industry.
"We really need to know what the guidelines are before we get too excited, but this is still very, very welcome," he said.
"This is the toughest adversity I've ever faced in the 40 years I've been in the trade.
"I've felt very anxious during the lockdown and I have had to borrow £70,000 to get me through. I've never had debt in my life before and now I do.
"Maybe we shouldn't have been so quick to cancel everything in the summer. We treble our turnover during the four weeks of the Edinburgh Festivals, which now we won't have."
Mr Ewing also said the Scottish government was putting pressure on the UK government to do more, including a review of VAT rates and to consider extensions to schemes such as the Coronavirus Job Retention Scheme.
"I've been engaging with businesses since the beginning of the outbreak and I have heard their calls for more clarity, which today I can provide," he said.
"Businesses should start to prepare for a provisional return to trading – with appropriate safety guidelines – on the 15th July 2020.
"This date cannot be definitive and is conditional on public health advice and progression to phase three of the route map. Businesses must now use this time to satisfy the necessary regulations and adapt to the new way of living."
'Hugely positive'
Marc Crothall, chief executive of the Scottish Tourism Alliance, said the announcement was "a hugely positive milestone in our road to recovery".
He said they had been pushing for a date so that accommodation providers, visitor attractions, pubs and restaurants could plan effectively.
He said this would include accepting bookings, arranging for staff to return from furlough, and ensuring that safety measures are in place for both employees and customers.
Mr Crothall said "urgent solutions or alternative measures" were needed to "overcome" the current two metre distancing restrictions.
He also called for some parts of the tourism sector, such as self-catering, caravan and camping parks, to be allowed to reopen earlier.
But he added: "The reassurance that there is a summer season for tourism in Scotland will offer a huge comfort and relief to many thousands of businesses."