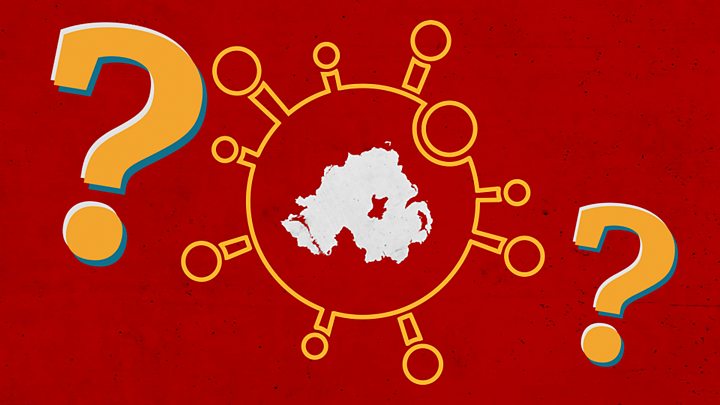 All non-essential retailers can reopen in Northern Ireland from Friday, Stormont's economy minister has said.
Pressure had been building on Stormont ministers to name a date, as only large retailers and shops in retail parks could open from today.
In the Republic of Ireland, all high street shops resumed business on Monday.
Diane Dodds said the executive will discuss when shopping centres can reopen later this week.
The executive met earlier and agreed to the further changes for retailers.
'Accelerate the pace'
Mrs Dodds described it as a "major step forward" for the economy, but that it was time to accelerate the pace of recovery.
"It was agreed that as long as retailers can adhere to the necessary safety measures, and there is no increase in the spread of the virus by Thursday, then these shops can reopen," she added.
"All retailers must be able to implement measures that minimise the risk to their staff and to the people who visit their stores."
Over the weekend, Mrs Dodds told the Belfast Telegraph she wants health officials to provide advice on the risks associated with reducing the current recommended 2m (6ft) social distancing rule to 1m.
Chief Executive of the Belfast Chamber of Commerce, Simon Hamilton, described the announcement as a "huge step in the right direction".
"Reopening will allow more retailers to start trading again after what has been a dark and difficult period for the sector."
It is understood ministers also discussed whether face coverings on public transport should be mandatory at their meeting on Monday, but no decision was taken.
It comes as no new Covid-19 related deaths were recorded in Northern Ireland for the second day in a row.
The Department of Health's death toll remains at 537.
Its daily figures are mostly comprised of hospital deaths and where a patient had previously tested positive for the virus.
The latest figures on the department's dashboard show six new confirmed positive cases of the virus, bringing that total to 4,802.
By 29 May, government statistics agency Nisra had recorded 757 deaths, as it records all fatalities where Covid-19 was mentioned on a death certificate.
Quarantine measures
From Monday, restrictions for some visitors entering Northern Ireland come into force, with anyone entering from outside the Common Travel Area having to self-isolate for 14 days.
The Common Travel Area covers the United Kingdom, Republic of Ireland, Isle of Man and the Channel Islands.
Leaving isolation prematurely could result in a fine of up to £1,000.
The executive has warned that people's behaviour over the next few weeks will determine whether lockdown-easing steps continue, are halted, or are reversed, depending on how the R value is affected.
The R-number, or reproduction number, is the average number of people that one coronavirus-infected person will pass the virus on to.
The Department of Health said it estimated the R-number in Northern Ireland is currently between 0.7 and 0.9, enabling ministers to move ahead with lifting restrictions.
It will now publish the R-number every Thursday.
The executive's five-step Pathway to Recovery does not include a timetable for each of the phases, but aspects of different steps of the Pathway to Recovery will likely take effect at the same time.
Measures permitted from Monday in Northern Ireland include:
About 80,000 people advised to shield can go outdoors with their household; or if they live alone they can meet one person from another household;
Small weddings and civil partnership ceremonies permitted outdoors, with no more than 10 people present;
Hotels can take advance bookings, ahead of a planned reopening on 20 July;
Outdoor sports facilities reopen;
People can leave home to attend to the needs or welfare of an animal – for example to access a range of services, including dog grooming;
Large non-food retailers can reopen, including car showrooms, electrical shops and phone shops.
Ministers have stressed that people and businesses must still adhere to physical distancing rules, by staying 2m (6ft) apart.
People in Northern Ireland who received a letter from their GP advising them to self-isolate can now go outdoors for the first time in almost 12 weeks.
The restriction has already been lifted in England and Wales.
The executive said it had decided to allow this because it recognised the strain of the pandemic on people's mental health.
However, it has warned that vulnerable people must continue to protect themselves, and stay at home where possible.
The Stormont Executive has also said the scientific evidence it has been receiving means it cannot yet allow people in Northern Ireland to visit others indoors.