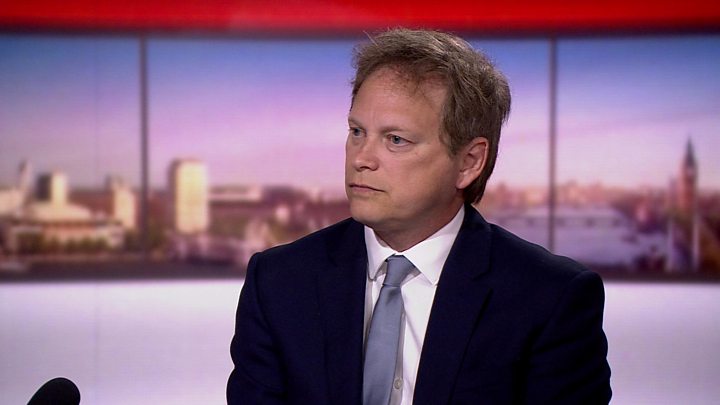 Businesses could be asked to stagger employees' working hours when the lockdown eases, the transport secretary has said.
Grant Shapps told the BBC that the move would help to prevent crowded commutes that risked spreading coronavirus.
Mr Shapps said more buses and trains would run but he hoped to encourage cycling and walking.
He also said he was "actively looking at" quarantining people travelling to the UK from abroad.
Rail bosses said last month that social-distancing of any kind would be "extraordinarily difficult" to manage and police, and could reduce the capacity of an individual train by between 70% and 90%.
Mr Shapps told the Andrew Marr Show that the government was looking at a range of options for people to travel to work, including encouraging what he described as a "massive expansion" in interest in "active travel" such as cycling or walking.
"There are a series of different things that we can do including staggering work times, working with businesses and organisations to do that," he said.
He also said he was working with train companies and unions on maintaining social distancing rules on platforms and at bus stops.
Analysis
By Jonathan Blake, political correspondent
With polls suggesting a relatively high level of support and compliance with lockdown measures, ministers will need to tread carefully.
Nobody is expecting restrictions to be lifted overnight and life to return to normal – far from it.
But the mantra for people to "stay at home, protect the NHS and save lives" appears to have worked well.
A new message may have to be more nuanced, if more people are able to return to work and businesses are encouraged to adapt.
Signalling to the public that the time is right to take a step out of lockdown will also require convincing them it is safe to do so.
Thursday, when the government is legally required to review the restrictions, will be the day we find out what comes next.
It comes as businesses called for a "carefully phased" plan for lifting lockdown restrictions to be set out immediately, as many say they need weeks to prepare for resuming operations.
The British Chambers of Commerce (BCC) said business groups and major employers expect to receive draft guidance from the government on Sunday about the safe return to work when the lockdown eases.
Mr Shapps said with testing now available to all staff and residents, infection rates were now falling in care homes as well as other parts of the community.
For that reason, he said he hoped the country would avoid care homes transmitting the virus back into the rest of society.
He was responding to a report in the Independent that Prof Keith Willett, NHS England's strategic director for Covid-19, warned on Thursday that care homes were expected to be the "epicentres of transmission" in the next few weeks. Nearly 30% of care homes have experienced an outbreak.
Asked whether fewer people would have died if testing capacity had been greater sooner, he said: "Yes.
"If we had had 100,000 test capacity before this thing started and the knowledge that we now have retrospectively I'm sure many things could be different."
But he said that although the UK has a big pharmaceuticals industry, it does not have a testing industry like Germany's, making it more difficult to increase test numbers.
Defending the decision not to close airports or introduce screening for international arrivals earlier in the pandemic, Mr Shapps said the advice was that a "complete lockdown of the borders" might only have delayed the virus by three to five days.
"We had millions of people abroad who needed to return home," he said.
But he said that now the infection rate was falling to a more manageable level, plans for screening and quarantining people travelling to the UK from abroad were "a serious point under consideration".
In other developments: