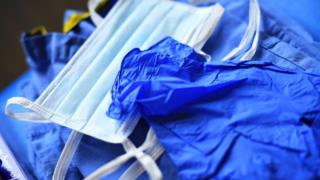 Nicola Sturgeon has voiced her extreme concern over claims the NHS in England is being prioritised for personal protection equipment ahead of Scotland.
At her daily briefing, she promised to seek urgent clarity on the matter.
The claims came from Donald Macaskill, the head of Scottish Care which is the body representing private homes in Scotland.
The first minister said although there was no clear evidence PPE was being diverted she wanted "assurances".
Ms Sturgeon insisted that if the usual supply of equipment to care homes in Scotland was being disrupted then that would be "completely unacceptable".
Reports of a possible problem came from Dr Macaskill who told BBC Radio Scotland that the UK's four largest PPE suppliers said they were not sending to Scotland because their priority was going to be "England, the English NHS and then English social care providers".
The UK government insisted that it had not instructed any company to prioritise PPE for one nation over the others.
A spokesman added: "Through this four nation approach, we're working closely with the devolved administrations to coordinate the distribution of PPE evenly across the UK."
Phone call cancelled
Ms Sturgeon said the matter was not of a "political nature" but rather about "fairness and co-operation"
She told the media on Tuesday: "All parts of the UK right now are facing supply challenges on PPE, indeed this is a global issue.
"Any situation where supplies were being diverted from one part of the UK to another without consultation or any sense of co-operation would clearly be unconscionable and unacceptable."
Scotland's Health Secretary Jeane Freeman said she was urgently seeking clarity around the situation and had intended to speak with her UK counterpart Matt Hancock later – but he cancelled the phone call.
She said she has now written to him to "remind him that he specifically does not have my agreement to the centralisation of ordering or distribution of PPE".