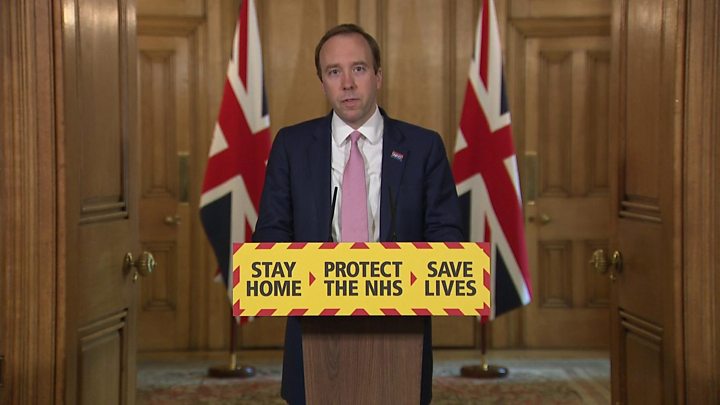 The UK deployed more than 122,000 coronavirus tests on the last day of April, passing the government's target, Health Secretary Matt Hancock said.
Mr Hancock said the target of 100,000 tests per day was an "audacious goal", but testing was necessary "for getting Britain back on her feet".
The figure includes home test kits counted when they were dispatched, which may not yet have been processed.
Mr Hancock set the goal on 2 April, when the UK was on 10,000 tests a day.
The latest figures show 27,510 people have now died in UK hospitals, care homes and the wider community after testing positive for coronavirus, a daily increase of 739.
At the daily Downing Street briefing, the health secretary suggested the target had had a "galvanising effect" towards increasing testing capacity in the UK.
He added that the testing capacity built would "help every single person in this country", and stressed that testing would "help us to unlock the lockdown".
Mr Hancock said the teams who increased the capacity, had "joined in one of the greatest national mobilisations we've seen".
The health secretary said the government's "next mission" was the roll-out of its test, track and trace operation.
Mr Hancock said: "By mid-May, we will have an initial 18,000 contact tracers in place," he said.
"That work is under way as we speak and if it needs to be bigger, we will scale it as required.
"The combination of contact tracers and new technology, through our new Covid-19 NHS app, will help tell us where the virus is spreading and help everyone to control new infections."
Mr Hancock added that the next phase would allow the government "to reassert, as much as is safely possible, the liberty of us all".
Some 122,347 tests were deployed in the 24 hours up to 09:00 BST on Friday.
The Department of Health established a testing network, including three "mega labs" to test samples, almost 50 drive-through centres, a home-testing service and mobile testing units, as part of the drive to achieve the government's target.
Carrying out over 122,000 tests in a day is a remarkable feat. Just two days ago, the number of tests carried out was just over 50,000.
It is testament to the hard work that has been done behind the scenes by a partnership of government, scientists and the private sector – with a helping hand from the military.
One question remains though. The government has counted home-testing kits sent out. Some, no doubt, will never be returned.
At this point we don't know how many home-testing kits are being counted. There was expected to be around 25,000 a day dispatched at this point.
If it is many more than that, people will question how correct the claims of achieving 100,000 tests a day actually are.
Meanwhile, Mr Hancock expanded the list of people eligible for testing throughout the month.
At first, across the UK, the focus was on testing the sickest patients in hospitals, followed by health, care and emergency services staff.
As of last week, other essential workers and their families in England became eligible for testing, if they showed symptoms.
Testing was further expanded earlier this week to millions more people, with symptoms including over-65s, those who have to leave home to work, and people living with someone in these groups.