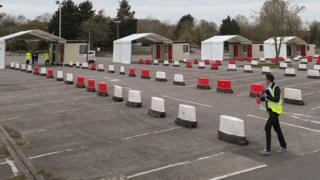 Testing is the solution to "unlock the puzzle" of coronavirus, Prime Minister Boris Johnson has said.
Mr Johnson was speaking after it was revealed some 2,000 NHS England staff have been tested for the virus, out of a workforce of about 1.2 million.
The PM said the government needed to "massively ramp up" testing so that NHS staff who are self-isolating unnecessarily can return to work.
It came as the UK had its biggest daily increase in deaths – 563.
As of 17:00 on Tuesday, the UK's overall death toll from the virus was 2,352.
'Rallying call'
Mr Johnson, who is self-isolating in Downing Street after contracting the virus, has faced widespread criticism over his government's testing strategy.
Speaking in a video message on Twitter on Wednesday evening, he said: "I want to say a special word about testing, because it is so important, and as I have said for weeks and weeks, this is the way through.
"This is how we will unlock the coronavirus puzzle. This is how we will defeat it in the end."
Mr Johnson said more coronavirus testing would enable staff who are self-isolating – either because they have symptoms or share a household with someone who is sick – to know if they are uninfected and can safely return to work.
Antibody tests – which look for signs of immunity in the blood – could show who has had coronavirus and is therefore not at risk of being infected or passing the infection on to others, the prime minister said.
However, these tests are not yet ready for use and it is not clear when they will be.
On Wednesday, Dr Yvonne Doyle, Public Health England medical director, told the daily coronavirus briefing in Downing Street the "intention" was for testing for frontline staff to increase from "thousands to hundreds of thousands within the coming weeks".
The prime minister's official spokesman said the government was working with NHS England, Public Health England and other organisations to boost test capacity with an additional network of labs and testing sites.
Health Secretary Matt Hancock has held talks with industry figures, issuing what his department said was a "rallying call" to improve diagnostic capability.
However, some NHS trusts have said they are limited in the number of tests they can carry out due to continued shortages of swabs, reagents and testing kits.
One large English district hospital in the Midlands reported it was only able to test three staff members per day due to a lack of swabs, NHS Providers said.
Another trust in the West Midlands said that while it could carry out up to 300 tests per day, a shortage of reagent and testing kit availability meant only 20 were carried out daily.
Despite there being capacity for 12,750 daily tests, only 8,630 were taken on Monday, the prime minister's official spokesman said.
As of 9:00 on Wednesday, 152,979 people in the UK had been tested for the virus with 29,474 confirmed positive.
New test a 'game-changer'
Meanwhile, Addenbrooke's hospital in Cambridge has become the first in the UK to use a new, much quicker Covid-19 test for staff and patients.
Called Samba two, it gives a result in just 90 minutes – as opposed to the 24 hours tests currently take – and has been adapted from an HIV test by a small Cambridge technology company.
The chief executive of Cambridge University Hospitals NHS Foundation Trust, Roland Sinker, told the BBC it could be a "game-changer" in helping them cope with the crisis.
In other developments:
British Airways is expected to announce it will suspend around 36,000 staff due to the crisis
The DWP says there have been 950,000 new universal credit claims from the mid-March shutdown until 31 March – the normal figure for a two-week period is 100,000
Up to 3,000 armed forces reservists are being called up to aid the military response to the coronavirus pandemic
Business Secretary Alok Sharma has issued a stark warning to banks, after concerns that up to one million companies could fold because they could be denied emergency loans
Defence Secretary Ben Wallace became the fourth cabinet minister to self-isolate
In the past 15 days, NHS 111 has responded to more than 1.7 million inquiries from people concerned they might have symptoms of coronavirus
Wimbledon has been cancelled for the first time since World War Two because of the pandemic
All Champions League and Europa League matches have been suspended "until further notice" by Uefa
The Edinburgh Festival, due to take place in August, has also been cancelled
New research suggests a loss of smell or taste may be a sign that you have coronavirus
Commons Speaker Sir Lindsay Hoyle has written to Jacob Rees-Mogg, Leader of the House of Commons, to ensure Parliament can operate "virtually" in the event social distancing measures remain in place on 21 April, when MPs plan to return to work
---
Do you work in the NHS? Have you been tested? Share your experiences by emailing haveyoursay@bbc.co.uk.
Please include a contact number if you are willing to speak to a BBC journalist. You can also contact us in the following ways: