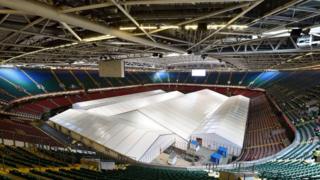 The billions of public cash being spent by the Welsh Government on tackling the coronavirus pandemic have been revealed.
Ministers say £2.4bn is going on healthcare, businesses, councils and transport.
Most – £1.6bn – is being used to support the economy.
But Welsh Government Finance Minister Rebecca Evans said ministers should be able to be allowed to raise more cash through borrowing.
Most of the cash has come from £1.8bn in extra funding from the UK Treasury as a result of new spending on public services in England due to coronavirus.
A total of £256m will come from the Welsh Government's reserves, and £245m from repurposed European funding, according to the Welsh Government's supplementary budget.
How is the money being spent?
The Welsh Government said it is spending £1.7bn, including £100m on infrastructure, on measures to support the economy and protect jobs.
That includes £500m on an economic resilience fund – providing financial support to companies.
But the bulk is being spent on business rate relief – a tax paid by firms for the premises they use. More than £1bn is being distributed by councils through the tax cuts, and associated grants.
To date councils have issued £625m in 50,700 business rates grants.
£100m allocated on protective kit
Meanwhile £763m is being spent on health and public services, including £166m for field hospitals such as the Dragon's Heart in Cardiff.
A total of £100m is going on personal protective equipment (PPE), £91m on additional NHS staffing, and £40m to pay every care worker a one-off £500 bonus.
The Welsh Government's contact tracing programme – designed to help ease Wales out of lockdown – has been allocated £57m.
Cash for councils
Meanwhile councils are being given £188m through a local authority hardship fund.
That includes £40m to support extra costs from adult social care, £40m for free school meals, £78m to help councils with lost income and £7m for temporary morgues.
Councils have claimed they face a loss of income of £173m through a loss of income and increased costs.
Welsh Local Government Association finance spokesperson Antony Hunt warned there was a "risk that the disease will cast its long shadow over essential local services for years to come, as council budgets are strained by the dual pressure of huge extra costs and loss of revenue".
"This budget is a good start, and that partnership approach will need to continue to address the financial impacts of this pandemic," he said.