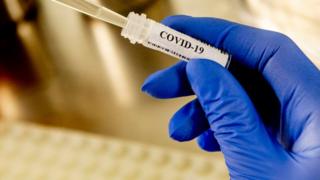 Twelve of Wales' Conservative MPs have expressed "alarm" at the "disparity" between England and Wales on coronavirus testing.
Wales has not followed England in expanding testing to people with symptoms if they are over-65 or need to leave home for work, and to all care home residents and staff.
The MPs claimed it means some people will be infected "unnecessarily".
The Welsh Government accused the MPs of "factual inaccuracies".
"Our testing policy is based on scientific evidence and is focused on those who need a test most," a spokesman said.
"As a result of this disparity in Covid-19 testing availability, some of our constituents will unnecessarily contract Covid infection, while others will spend avoidable time self-isolating and off work," the MPs said.
They made the comments in a letter to the First Minister, Welsh Labour leader Mark Drakeford.
The letter was signed by almost all of Welsh Tory Commons group, with the exception of the Welsh Secretary Simon Hart and Wales Office Minister David Davies.
Earlier, Health Minister Vaughan Gething said he had not been given notice of the UK government's plan to test more people in care homes.
On Tuesday the health secretary for England, Matt Hancock, announced that those over-65, anyone who is in employment but cannot work from home and anyone who lives with someone who falls into those categories, could be tested if they had symptoms.
Testing was also expanded to all social care workers and residents in care homes.
In Wales, testing is available, as in England, to key workers with symptoms as well as patients in hospital. It is also offered to care home residents and staff with symptoms.
But although it began testing frontline NHS staff before England, the Welsh Government has not matched Mr Hancock's announcement.
Welsh ministers have expressed scepticism at testing care home residents who do not have symptoms, although people who are leaving hospital and are going into care homes are being routinely tested.
Mark Drakeford said on Wednesday there was "no value" to providing tests to everybody in care homes – the next day Mr Gething said he did not understand "the rationale" for how it keeps the public safer.
"Just testing every care home resident doesn't automatically make them safer," the health minister told an assembly committee.
"Because the test tells you whether you have coronavirus at the point in time the test was undertaken, not whether you can get it the next day."
Wales' Chief Medical Officer Frank Atherton said the Welsh Government was "still trying to reach across to England to understand the exact rationale for the changes that they've made in various categories".
But he said "capacity" had an impact. The Welsh Government had abandoned a pledge to test 5,000 a day earlier in the month.
Capacity is now pegged at 2,100 a day, but Public Health Wales said 1,042 tests were carried out on Wednesday.
The MPs said they were concerned that "residents in care homes are likely to be placed at unacceptable ongoing risk".
The authors claimed all swab processing "still requires the use of a single laboratory site in Cardiff".
The MPs "strongly" urged the first minister to rapidly develop additional testing sites across Wales "and to seek the use of laboratories elsewhere in the United Kingdom".
Vale of Clwyd Conservative MP Dr James Davies told BBC Wales: "Throughout this we've had a number of issues of concern where there's been disparity relating to the shielding letters going out and availability of supermarket slots and so forth.
"But I think, by and large, the two governments have tried to work hand in hand. It's clear that Scotland and Northern Ireland are working with England over the testing process, but it appears that Wales is trying to do its own thing and not doing it well."
'Misrepresentations'
A Welsh Government spokesman said: "At a time when Welsh Government ministers are working constructively with their counterparts from other political parties we are saddened to receive such a letter from Welsh Conservative MPs, which contains so many factual inaccuracies and misrepresentations.
"Our testing policy is based on scientific evidence and is focused on those who need a test most – people being admitted to hospital with symptoms; people being admitted to and transferred between care homes; care home residents and our frontline health and social care workers. We have also extended testing to critical workers, publishing our plan and our reasons for it."
Asked by BBC Wales what the factual inaccuracies were, the spokesman said they will be covered by the first minister in his response to the letter.