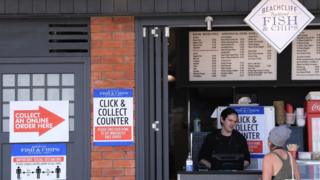 Downing Street has conceded Wales and the other UK nations may move at different speeds in easing the coronavirus lockdown.
It follows a call between the prime minister and First Minister Mark Drakeford and counterparts from Scotland and Northern Ireland.
Tensions became apparent between the Welsh and UK governments on Thursday over the future of the arrangements, amid speculation of easing in England.
A review has to take place on Thursday.
Downing Street suggested the differences – if any – would be slight. It is not yet clear what the Welsh Government wants to do, with ministers here meeting on Thursday night.
Lockdown in Wales, Scotland and Northern Ireland is devolved, with the relevant administrations in charge of the public health legislation.
So far there have been broad similarities between the stay-at-home regulations, although Wales has had differences concentrated on fines, workplace rules and exercise.
The prime minister is due to announce his roadmap for easing lockdown in England on Sunday.
A Downing Street spokeswoman said in the call Boris Johnson "reiterated his commitment to continuing" the UK-wide approach to tackling coronavirus "even if different parts of the UK begin to move at slightly different speeds. Those decisions will be made based on the science for each nation".
Everyone on the call "agreed that continued engagement between our administrations is vital and to remain in close contact in the days and weeks ahead", the spokeswoman added.
The spokeswoman said the prime minister "emphasised that this is a critical moment in the fight against coronavirus and that the UK government will not throw away the efforts and sacrifices of the British people".
"We will act with maximum caution in order to save lives," she added.