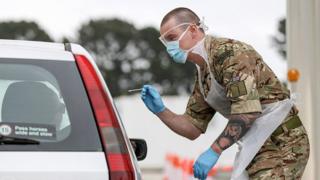 The UK carried out 122,000 coronavirus tests on the last day of April, passing the government's target of 100,000.
The UK government has met its target of 100,000 coronavirus tests a day by the end of last month.
On 30 April, 122,347 coronavirus tests were provided across the UK.
Where did the 100,000 target come from?
At the beginning of April, Health Secretary Matt Hancock promised 100,000 tests would be carried out a day by the end of the month.
Saffron Cordery of NHS Providers, which represents NHS trusts, said the rationale for the UK needing to get to that particular figure wasn't "entirely clear".
But Mr Hancock had been coming under pressure as the UK lagged behind other nations – Germany was up to more than 100,000 tests a day on average by 4 April.
The published number of tests carried out is higher than the actual number of people tested, since some people need more than one.
It's been suggested that the 800,000 people who work for the NHS will need to be tested about once a week.
Who can get tested?
After a slow start, more test sites and labs have been set up, and more people have become eligible for testing.
At first, across the UK, the focus was on the sickest patients in hospitals, followed by health, care and emergency services staff, then other essential workers and their families.
Most recently in England, testing has been expanded to anyone with symptoms who is:
over 65
or has to leave home to go to work
and their households
There have been serious problems containing the outbreak in care homes. After weeks of lockdown, it was announced on Tuesday that care homes, staff and residents in England could now be tested even if they don't have any symptoms.
Key workers in England and Scotland who are self-isolating because they or a family member have coronavirus symptoms can be referred for a test by their employer.
Wales is adopting a needs-based approach to testing for NHS and "critical" non-NHS workers.
In Northern Ireland, key workers can be tested at one of three drive-through centres.
If a test is negative, a key worker can return to work if they are well enough, have not had a high temperature for 48 hours, and those living with them test negative.
How do the tests work?
The tests are done by taking a swab of the nose or throat, which is sent to a lab to spot signs of the virus's genetic material.
Those eligible can either attend a regional test site, or ask for a home test kit – although these have been in short supply.
The British Medical Association had said the accessibility of centres was a major problem, with some driving hundreds of miles to their nearest site – especially difficult for people suffering symptoms of Covid-19.
Why is testing important?
People are tested to diagnose them individually, but it can also be used to understand how far the virus has spread in the population.
For this second reason, a total of 20,000 households in England will be tested every month for a year – for active coronavirus infections and for antibodies indicating a past infection.
It also helps people, including NHS workers, know whether they are safe to attend work. It can enable the health service plan for extra demand, and inform government decisions around social distancing and lockdowns.
Has the UK been too slow in testing for coronavirus?
There have been suggestions the UK government did not act quickly enough.
The UK did not start with the resources to do mass testing, unlike some other countries. But it also took several weeks to expand from an initial eight public health laboratories to a wider network of private and university labs.
Unlike the UK, countries like Germany and South Korea rapidly stockpiled kits and made the test available to a larger number of labs.
As of 29 April, the UK had carried out 8.83 tests per 1,000 people, whereas Italy had done 31.6 per 1,000, Germany 30.4 (as at 26 April) and South Korea 11.98, according to data collated by online scientific publication Our World in Data from official sources.
What about antibody tests?
An antibody test shows whether someone has already had the virus.
They work by looking for signs of immunity, by using a drop of blood on a device that works a bit like a pregnancy test.
No home antibody test has yet proved to be reliable enough to be used.
A more reliable laboratory antibody test is in use at Porton Down, but it is currently being reserved to estimate population-level immunity – not to give individuals information about their infection status.
Follow Rachel on Twitter
What do I need to know about the coronavirus?
---
Have you been tested? Or are you waiting for a test?
Please include a contact number if you are willing to speak to a BBC journalist about your experience.