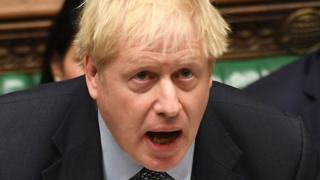 Scotland's highest court has delayed a decision on whether the prime minister has fully complied with a law requiring him to ask for a Brexit extension.
Boris Johnson sent an unsigned letter to Brussels asking for a delay, along with a signed letter saying he believed that doing so would be a mistake.
Lord Carloway said the case should continue until obligations under the law had been complied with in full.
A date for the next hearing at the Court of Session has yet to be set.
The judges had earlier been asked to decide whether Mr Johnson's tactics broke a promise not to "frustrate" the so-called Benn Act.
The government maintains it has fulfilled its legal obligations.