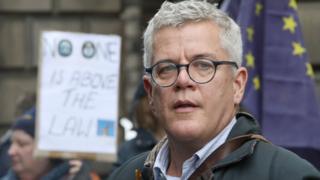 Scotland's highest civil court has dismissed a legal bid to stop the UK government from passing its proposed EU withdrawal agreement.
Anti-Brexit campaigners argued the deal contravened legislation preventing Northern Ireland from forming part of a separate customs territory.
The UK government said the court should not stop the matter coming before Parliament.
After a hearing in Edinburgh Lord Pentland ruled against the petition.
Jo Maugham QC, who lodged the petition at the Outer House of the Court of Session in Edinburgh, tweeted: "As I said yesterday morning, we had to make a decision to issue proceedings for interim remedies quickly or not at all; once the withdrawal agreement reaches Parliament it becomes impossible to challenge.
"That was a difficult decision to make. It is difficult to move quickly and accurately and, the court has found, I got that decision wrong.
"We will review the decision carefully but my instinct is that we are unlikely to proceed to a full hearing for reasons indicated above."