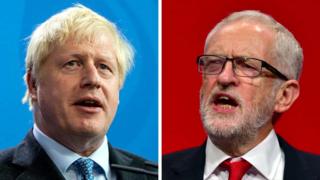 Boris Johnson and Jeremy Corbyn have arrived at Media City in Salford for the first TV debate of the campaign.
The head-to-head between the Conservative and Labour leaders, hosted by news presenter Julie Etchingham, will be shown on ITV at 20:00 GMT.
It comes after the Lib Dems and SNP lost their legal challenge to be included in the live programme.
First to arrive, Mr Corbyn said he hoped it would be a "respectful and transformative debate".
Mr Corbyn was greeted by cheering supporters telling them: "I am loving every minute of it and I am utterly, utterly determined that we are going to win this election to make life better for those that have suffered so much under austerity."
He told reporters he hoped it would be "a respectful and informative debate".
Asked if he was nervous, he said: "Not in the slightest. Why would I be?
"I am very confident in our policies and our ability to try and transform this country."
Asked how he had prepared for the debate, he said he had "eaten a Caesar salad, had a couple of cups of tea, read a bit and talked a bit to my team".
Labour grassroots campaign Momentum said supporters of Mr Corbyn were organising "watch parties" around the UK and in France, Israel, Germany and Spain.
Mr Johnson arrived later, by a different entrance.
The two leaders will get a minute each to make an opening statement. Lots were drawn earlier and Mr Corbyn will go first.
The first section of the programme is set to focus on questions about Brexit, with the remainder to be dedicated to other issues.
The debate comes after the Lib Dems and SNP lost their legal challenge to be included in the live programme.
It will be followed at 22:00 by interviews with party leaders, including Liberal Democrat leader Jo Swinson, reacting to the debate.
We got a sneak preview of what Boris Johnson wants to focus on earlier.
He wrote a letter to Jeremy Corbyn asking for clarity on his Brexit position and you can expect the PM to spend the first part of the debate returning to these question whenever he can; does Mr Corbyn want to leave the EU? Would he stop freedom of movement? Can he persuade his party to come with him?
Mr Corbyn is bound to know that – and you can expect him to have prepared an answer.
But the Labour leader will want to persuade voters watching at home that this election is about a lot more than Brexit – that we should be focusing on his agenda for domestic politics, from free broadband for all to the NHS.
Let's face it, we've all heard the campaign message and lines.
Tonight is about how both men fair under intense scrutiny from each other and, perhaps more importantly, from the studio audience.
Slip-ups and mistakes can have a big impact and – just maybe – change a few minds.
On Monday, in London's High Court, the Lib Dems said they wanted their pro-Remain stance to be represented, while the SNP also wanted the issue of Scottish independence to be raised.
But Lord Justice Davis and Mr Justice Warby said the case was not suitable for judicial review as ITV was not carrying out a "public function" in law by holding the debate.
However, the parties had the right to complain to Ofcom about the programme after it had been broadcast, they said.
The BBC will also host a live head-to-head debate between the Conservative and Labour leaders in Southampton on 6 December, plus a seven-way podium debate between senior figures from the UK's major political parties on 29 November, live from Cardiff.
The Lib Dems have sent a legal letter to the BBC over its decision not to include Ms Swinson in the head-to-head.
BBC Scotland will stage a televised debate between the SNP, Conservatives, Labour and Liberal Democrats on 10 December, although the Scottish Greens have criticised the decision not to include them.