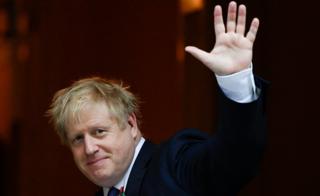 There's a unique feeling to the morning of an election results day.
The nation emerges in a heady mix of anxiety, fatigue and excitement as they find out who is running the country.
Some of us will have lapped up every moment of coverage, delirious with opinions and obscure stats about the electoral map. Others will groggily reach for their phone when the alarm goes off to discover what happened the night before.
But there's one person in particular who won't have had a remote sniff of a lie-in – and is unlikely to get a snooze anytime soon – the new prime minister.
A sleepless night
Boris Johnson will have been keeping a keen eye on results coming in overnight but eventually he will have been pulled away from the TV (or Twitter) to attend his own "count".
His trip to the Uxbridge and South Ruislip announcement coincided with a message from US President Donald Trump, who had seen early predictions of the result.
It's not quite as showbiz as David Cameron getting a call from Terminator and then governor of California Arnold Schwarzenegger in 2010 but a congratulations from across the pond is a sure-fire sign that results night is well under way.
A royal meeting
Because there isn't a new PM, the grand traditions associated with the Royal Family and new governments won't be on full show.
There also won't be any reminders from that guy on your Twitter feed who points out the country is "technically without a leader" for about an hour when the changeover happens.
A re-elected prime minister doesn't actually have to see the Queen in person – but most choose to do so anyway, out of respect and excitement.
With this being the second time Boris Johnson will have visited Her Majesty to form a government, it could be a chance for his dog Dilyn (who made an appearance in the ever-popular #dogsatpollingstations feed) to be introduced to the royal corgis.
The steps of Downing Street
After a brief brush with royalty, the PM is whisked off to Downing Street in an armoured, bullet-proof Jaguar – the official vehicle that comes with the job.
He'll then be greeted by a wall of the world's media and give his first speech as the newly anointed PM on the steps of Number 10.
The words used are often a message about the aims of the next government.
Theresa May spoke of tackling "burning injustices" and Gordon Brown quoted his old school motto: "I will try my utmost."
This time around watch out for some puns about it being a "Merry Christmas" for the Conservatives.
Meeting the staff
Another tradition that awaits Boris Johnson later today is being clapped back into Downing Street by a line of staff, who will be waiting to greet him.
It's likely there will be a rather celebratory mood inside the famous address after the PM's significant victory.
Rumour has it that the Christmas cheer might even be enhanced by some mulled wine being passed around the team.
On with the job
After shaking a few hands, the PM heads straight to the cabinet room to be briefed by officials about crucial issues for the next few hours.
These includes the cabinet secretary – the UK's top civil servant – whose advice ranges from day-to-day governing to expenses allowances and living arrangements.
There will also be a security briefing from the chief of defence staff, the national security adviser and the heads of the intelligence agencies – with details of British spies and operations overseas as well as the procedure involving Britain's nuclear deterrent.
Boris Johnson's will need to write new "letters of last resort", directing what the four submarines which hold Britain's nuclear weapons should do if the country is hit by a nuclear strike.
John Major described writing the letters as "one of the most difficult things I've ever had to do".
Peppered throughout the day will also be calls from other world leaders congratulating him on his victory.
Building a team
Not quite like a scene out of The Apprentice – but it can be fairly ruthless. It's not often you're able to pick the colleagues you want to work with every day.
Though plans may have been in place for some time, the prime minister now has to appoint a cabinet and ministerial team to head up government departments. He will also sack unwanted ministers.
You might think there'd be hi-tech equipment like touchscreens being used – with names floating from one position to the next. But in reality, using whiteboards with coloured stickers is the usual way to go.
On the first day it'll be key positions such as chancellor, foreign secretary and home secretary which will be announced, with more junior roles coming later.
It's thought some of Boris Johnson's appointments could be filled in the next 24 hours but the full line-up is unlikely to be completed until next week.