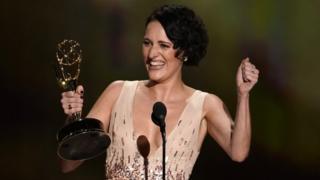 British TV series Fleabag is among the first winners at this year's Emmys.
The ceremony is currently taking place at the Microsoft Theatre in LA.
Fleabag's creator and writer Phoebe Waller-Bridge took home the prize for best leading comedy actress and best writing for a comedy series.
"It's so wonderful and reassuring to know that a dirty, pervy, angry and messed-up woman can make it to the Emmys," she laughed, referring to the show's lead character.
The actress also joked that the possibility of winning awards was the reason she wrote the series in the first place.
"I find writing really hard and really painful, but I'd like to say from the bottom of my heart that the reason that I do it is this," she said, holding up the Emmy statuette. "So it's made it all really worth it guys, thank you so much."
Waller-Bridge's win for leading comedy actress was a particular surprise, as she was nominated against Emmy favourite Julia Louis-Dreyfus.
The US actress has previously won in this category six times for her role in Veep, and was widely expected to win again for the show's seventh and final series.
'Glorious grenade'
The show's director, Harry Bradbeer, also won the prize for best director for a comedy series.
"I think for a director, something like Fleabag only comes along once in your life," he said in his acceptance speech.
"Thank you Phoebe for coming into my life like some kind of glorious grenade. Scientists are still trying to work out how someone so incredibly talented can be so utterly lovely."
The second series of Fleabag aired on the BBC earlier this year and has been released by Amazon in the US.
Other British winners include Ben Whishaw, who won best supporting actor in a limited series for his role in A Very English Scandal.
Charlie Brooker won best Television Movie for Bandersnatch, a win he said he was "quite unprepared for".
Bandersnatch, which was released on Netflix, allowed viewers to choose the way the storyline unfolded.
In his speech, Brooker thanked his two children, joking: "I can never limit your video game screen time again, if I do I'm a disgusting hypocrite [because] it sometimes pays off."
British writer Jesse Armstrong, whose work on Succession won him best writing for a drama series, made reference to the strong UK showing at the ceremony.
"Quite a lot of British winners, maybe too many? Maybe you should have a think about those immigration restrictions," he joked.
The final season of Game of Thrones is among the other nominees at the ceremony.
The fantasy epic, which came to a divisive climax earlier this year, has 14 nominations in seven categories.
They include nominations for best drama series plus nods in all four of the drama series acting categories.
The 32 Emmy nominations Game of Thrones received in July was the highest total for any programme in a single year.
The show has already won 10 prizes at the Creative Arts Emmys held last weekend, including awards for its casting, costumes, make-up and music.
If Game of Thrones adds just three more awards to that tally on Sunday, it will better the 12 Emmys it received in both 2015 and 2016.
The show is already the most honoured series and most-nominated drama in Emmy awards history.
Sunday's ceremony in Los Angeles will also see Killing Eve stars Jodie Comer and Sandra Oh compete for the best lead actress in a drama award.
Alfie Allen, meanwhile, is one of three Game of Thrones stars up for outstanding supporting actor in a drama, having put himself forward for a nomination earlier this year.
Gwendoline Christie also submitted herself successfully, earning a citation in the best supporting drama actress category alongside three of her Thrones co-stars.
Sunday night's event is only the fourth Emmy ceremony ever not to have a host.
More than 25,000 members of the Television Academy vote for the awards, which were first presented in 1949.
The name Emmy derives from an early piece of TV equipment called the image orthicon camera tube, nicknamed the Immy.
Follow us on Facebook, or on Twitter @BBCNewsEnts. If you have a story suggestion email entertainment.news@bbc.co.uk.