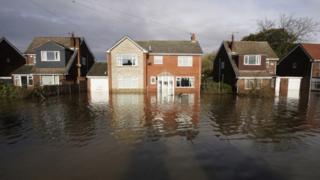 Labour and the Lib Dems have criticised the government for its handling of severe flooding in northern England.
Labour leader Jeremy Corbyn said the government's response was "woeful" while Lib Dem leader Jo Swinson called for "long-term policy changes".
Both have urged the prime minister to declare a "national emergency" over the floods.
Boris Johnson is to chair the government's emergency Cobra committee later to discuss the situation.
The Environment Agency has 30 flood warnings in place as well as five severe warnings on the River Don in South Yorkshire.
About 500 homes have been flooded and 1,200 properties evacuated.
The Met Office has also issued yellow weather warnings for rain covering large parts of the country on Tuesday and Thursday.
An emergency appeal to support "displaced" families has raised more than £85,000.
It comes after downpours last week meant several areas were struck by a month's worth of rain in a single day.
Hundreds of people in Fishlake, near Doncaster, have fled their homes after the village was submerged.
Empty coffins were seen floating inside the workshop of a flooded funeral parlour and some villagers had to spend the night at a nearby pub.
The council has called for people to evacuate the village, saying it "can only offer dedicated support to people who are not in an area where there is a threat to life".
Speaking at a rally in Blackpool, Labour leader Jeremy Corbyn said the Conservative government's response to the floods had "been woeful" and had only been triggered after he had written to Boris Johnson.
Mr Corbyn said: "If this had happened in Surrey instead of Yorkshire and the East Midlands, I think it would have been a very different story."
Number 10 disputed this, saying the decision to hold a Cobra meeting about the response to flooding had been taken prior to the letter from Mr Corbyn.
The flooding situation at the weekend had not reached the level where a national emergency could be officially declared.
'Seismic change'
Meanwhile, Liberal Democrat leader Jo Swinson, arrived in Stainforth where she set out plans for a £5bn fund to improve flood defences across the UK.
She said: "It is wrong that it seems to be just down to the local communities, important though this work is, this is clearly a national emergency and the government should be declaring it as such."
National Farmers Union president Minette Batters said "seismic change" was needed to tackle flooding.
Four Environment Agency pumps are in Fishlake to remove floodwater from the village.
Joe Howslam, 23, told the BBC: "I live with my parents, brother and sister, but we've all had to move out.
"In the history of Fishlake it's never been this bad, according to some of the older members of our village.
"I'm an HGV mechanic and we've run a family farm, so I borrowed a tractor on Saturday and helped rescue a few people. I even rescued my dad from the top window of the house."
Ian White, BBC Look North reporter in Fishlake
Roads remain closed and there's a big police presence on the outskirts of the village, partly to deter looters from trying their luck here.
Fire crews with large inflatable boats remain on the streets, regularly checking on people who've ignored advice from the authorities to leave their homes.
Water levels seem to have dropped a bit but some roads remain covered in deep floodwater almost a foot deep.
Community spirit is strong and the local pub and church remain focal points, taking in donations of household items and clothes, and serving up food to those in need.
Pam Webb, who owns a spa in Fishlake, described how she lost everything she has worked for after her insurance did not cover flooding.
"I feel really selfish in saying this and I hope that other people aren't in this boat but I've lost my home and my business and my livelihood that I've worked so hard for.
"And the girls who worked for me, or worked with me, it's their livelihoods as well."
Tractors and boats have been used to get around the village, with many roads in the area under floodwater.
According to the Salvation Army, some people have been rescued from their homes by boat since the early hours of Saturday, but others remain in their properties, while military helicopters have been used to help boost flood defences in the area.
In Worksop, hundreds of homes have been evacuated and dozens of businesses have also been badly hit.
Susan Hale said the floodwater had "completely devastated" her tapas bar.
"The years of hard work and love [have] just gone in a day," she said.
Flood warnings remain in Lincolnshire where more than 1,000 acres have been flooded and some train lines blocked.
Northern said its services into Rotherham Central were not running until further notice, with reduced services between Doncaster and Sheffield. CrossCountry's trains are also being diverted away from Doncaster.
You may also be interested in:
The RSPCA has been involved in a rescue operation to save 60 swans following an oil spillage caused by flooding in Rotherham.
Further south, parts of Derbyshire are also still affected by flooding.
Areas around Matlock – where former High Sherriff of Derbyshire Annie Hall was swept to her death by the flooded River Derwent – are continuing their clean-up efforts, with further rain over the weekend.