In early November, she taped an episode of Ellen, her first very public appearance in a few months.
It's not as if she hadn't been out in public — she'd taken a road trip with her friends in September and a trip to Hawaii with Browne in the spring. But those trips were for her. This was stepping back onto the stage and putting herself out there again.
It's a conscious choice to step in front of the camera. To some extent, celebrities are complicit in their public caricatures. Rousey is just trying to do it on her terms now. Exert some measure of control so she doesn't get swept up in the current again.
"It's for a purpose," she says. " [But] I get anxiety after doing stuff like that, even with someone as sweet as Ellen."
As she tells the story, she notices the water in the small pot she's using to cook rice boiling over. "Are you supposed to add this much water?" she asks Tarverdyan. He's indifferent. Either she'll get it right this time or they'll throw the rice out. Again.
She grabs a cup and adds more water. It already looks like mush. She shrugs.
"I get a little nervous. Not like before a fight or anything," she says. "I was more nervous that my heels were way too big and I didn't want to look like I was dragging my feet when I was walking. Then I was nervous that my nipples were showing through my dress. [But] it's for a purpose. Overall I think it adds to my life."
That's the mantra now.
"Hone in on happiness again," she says. That's the reason that, outside of SNL, one of her only appearances this year came on an episode of Drunk History. "It's my favorite show. I was like, 'This year I just need to enjoy my life.' "
Dana White wanted that too. Rousey is one of his best friends, in or outside the UFC. But White also has a business to run with precedents to consider.
In April 2015, the sport made headlines when another of its stars, McGregor, refused to attend a news conference. White responded by pulling him from the UFC 200 card.
Rousey watched it unfold from afar. When she saw McGregor a month later, at a Bud Light commercial taping in Las Vegas, she pulled him aside and offered some advice. "Instead of trying to handle everything at once, while it's coming at you, just trying to reach an agreement beforehand," she told him.
Rousey did the same when she negotiated her terms for UFC 207. She would limit her publicity to a few high-profile interviews with people of her choosing, a day of filming at the gym in Glendale and a staredown with Nunes at UFC 205, a bout that McGregor would headline in New York in November.
Originally, White had wanted Rousey to fight at that event. It was a landmark moment for the sport. New York City! Madison Square Garden! White had been trying to get fights approved there for years. It was the kind of card that demanded a bold-faced headliner.
When White asked, Rousey and Tarverdyan had to consider the request. It was the kind of thing that, before her loss, she never would have passed up. A huge fight … the company needing her … White calling her personally. But in the end, Rousey declined, saying she needed more time to make sure she was fully recovered from knee surgery.
"Everybody knows how I feel about Ronda," White says. "She worked harder than anybody for years, and she needed a break. Now that she's coming back, I'm kind of letting her do it on her terms."
Now all that matters to Rousey is doing what gives her the best chance of winning her next fight. So she told White no, and instead McGregor defeated Eddie Alvarez to claim his lightweight championship.
"Conor gave me the chance to rest, he took the weight off my shoulders, and I'm grateful," she says.
"I will never put my body at risk for money and views ever again. What makes me happy is winning and being the best in the world and that's it. F— all the promotion and energy spent on anything that's not me winning. And anyone who tries to tell me I owe them energy on frivolous s— during camp out of 'loyalty' or 'friendship' deserves no loyalty from me and is no friend of mine.
"This is not a time for f—ing favors. This is a time for redemption and revenge."
---
At night she has to use the flashlight on her iPhone to walk out to the dojo. It's even colder than the morning, so she warms up faster by shadowboxing.
Tarverdyan comes in to wrap her hands again. Tonight is about technique and quickness. Footwork, head movement, balance. Manly watches as they run through drills. This is not his area of expertise, so he's trying to learn.
The idea is to step around a square area, throwing a punch with each turn, without rising from a low, wide stance.
Manly tries to copy the movements. It feels totally unnatural.
"Wow, it's like I've never been an athlete," he says. "This is hard."
Rousey demonstrates the footwork again. Manly tries to mimic the motion without losing his balance.
"The first time Ronda did this drill," Tarverdyan tells him, "I wouldn't let her throw more than straight jabs."
Now, though, he's got to let her throw. He puts on a padded vest and his hand mitts so Rousey can tee off on him for a while. It's important for her to hit and get hit again.
He's been letting her go further and further all year. Building confidence back after a loss is a particular challenge. Push too far, too early, and the recoil is swift. Waiting too long leaves room for doubt to creep in.
The trainer becomes something of a jockey, looking for the right moment to let the horse run free.
In August he told her to get in the cage with one of his male Armenian fighters. "She showed a lot of heart and spirit again," Tarverdyan says. "Once she showed that to me, we were good to go."
Last month, he flew in Olympic boxer Mikaela Mayer for a week of sparring. Just boxing — no judo or grappling or jiujitsu. It looked exactly like their backgrounds suggested: Mayer stayed outside, trying to run up points without getting caught. Rousey tried to get inside, where she's strongest, then had to turn off her instinct to take Mayer down to the ground.
Frustrated as she might have been at times, it was good to practice patience. Holm exploited her instinct to rush in. Nunes would be foolish not to try to do the same.
The Vegas oddsmakers mark Rousey as a slight favorite. No one has been able to defend the belt in the year since Rousey lost it. Holm lost to Miesha Tate, who then lost to Nunes. If Rousey wins the belt back, she says she wants another crack at Holm.
To make things right, or at least try to.
---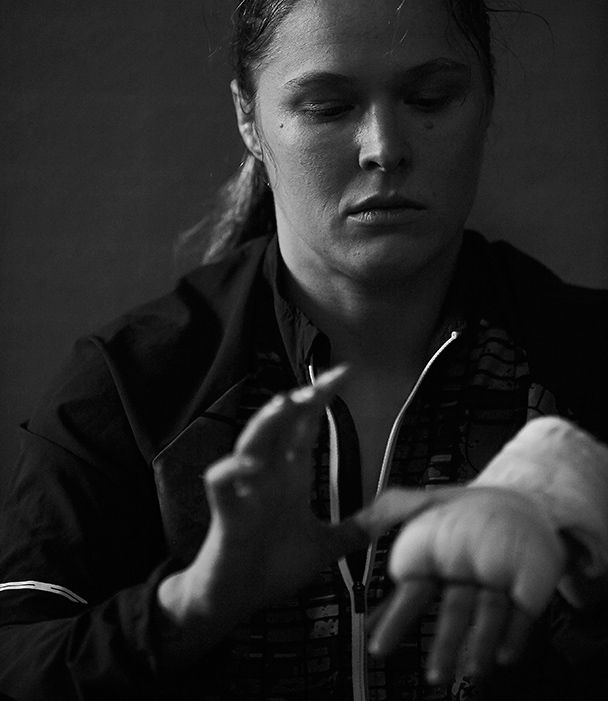 Every so often, Rousey or her trainers put up a new quote on the wood panels above the mats in the dojo, next to the pictures Tarverdyan has hung.
After their training session, Manly takes a few minutes to consider what he wants her to remember.
"I got it," he says. "This is perfect."
He grabs the black felt pen and climbs up on a step stool: "WHEREVER YOU GO IN LIFE, YOUR MIND HAS BEEN THERE FIRST."
Tarverdyan's handwriting is understated and neat. In the corner of the room, he's written, "A certain darkness is needed to see the stars."
Rousey's quotes are shorter, declarative statements in all caps: "FTA" right by the door. "SUCCESS IS THE BEST REVENGE" in the center of the room. "FINISH WHAT YOU STARTED" in another corner.
"She sent me a text the other day," says Rousey's mother, De Mars. "She said, 'I am doing this to show everybody who believed in me, my little sister, my nieces and my nephew, that there's nothing so great that you can't overcome it. You can never fall so far that you can't rise up.' "
Now it's time to get back in the cage.
"All I care about is winning this f—ing fight."
Ramona ShelburneShelburne is a senior writer for ESPN. She spent seven years at the Los Angeles Daily News.