Update 22/1/20: The Fujifilm X-T200 entry-level mirrorless camera appears to have now fully leaked, with a range of images and specs posted by the Japanese site Nokishita. Here is our updated story – scroll down further for our original piece on the earlier rumors.
The Fujifilm X-T200, which will succeed the entry-level X-T100 mirrorless camera, looks to have now fully leaked, with a range of what appear to be official images and specs released by the Japanese site Nokishita. 
The leaked information appears to confirm recent speculation about the X-T200's features, which include improved autofocus performance, a new vari-angle 3.5-inch touchscreen, 8fps burst shooting (up from 6fps), and updated Face and Eye detection.
According to the leak, the X-T200 will have the same 24.2MP ASP-C CMOS sensor as the Fujifilm X-T100, but will include copper wiring to reduce noise and read information from the sensor. We saw a similar technique used on the Fujifilm X-A7, and it produced some impressive image quality results for the price there.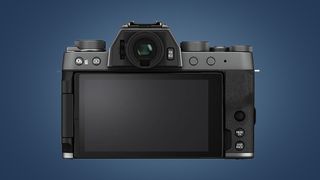 While the X-T200 lacks in-body image stabilization, its vlogging credentials look to have been boosted by the inclusion of new Electronic Stabilization and HDR Video modes. Some details haven't yet been leaked though, including video frame-rates. From the X-A7's performance, though, we think it's safe to say the X-T200 will shoot 4K/30p video, and there still looks to be the 2.5mm microphone input on the side.
Overall, then, the Fujifilm X-T200 very much appears to be a viewfinder-equipped version of the X-A7, which will please those looking for an affordable mirrorless camera that's equally adept at shooting video and stills. We'll update this story as soon as the camera, along with its full specs and pricing, become available.
Alongside the X-T200, Nokishita also shared some apparent images of the XC35mm f/2 lens, which would make an ideal companion to the camera. Fujifilm's XC lenses tend to be more compact, affordable versions of its XF glass, so we expect the XC35mm to be cheaper than the XF35mm f/2, which costs $399 / £369 / AU$509. Again, we'll update this page once the lens and its pricing are official.
Original story:
The first leaked images of the Fujifilm X-T200 have emerged, and they've bolstered early rumors that the beginner mirrorless camera will be even more of a vlogging-friendly all-rounder than its predecessor.
We were big fans of the Fujifilm X-T100 when it launched back in May 2018, but it fell just short of making our best vlogging camera list for a couple of reasons: it could only shoot 4K video at 15fps, and its autofocus was only average when shooting video.
Well, the first leaked images said to show the X-T200 have now emerged from the usually reliable Japanese site Nokishita, and they show it in full vlogging mode, with an external microphone sitting in the hotshoe.
It's tricky to draw anything definitive from the photos, but speculation from Fuji Rumors suggests the X-T200 will have a fully articulating touchscreen (instead of the X-T100's rather handy three-way tilt-screen).
That change to the screen design could prove controversial for those who enjoyed the X-T100's slightly less fiddly affair, and the leaked images also suggest the X-T200 will still need a 2.5mm microphone adaptor; but otherwise its all-round improvements suggest it's shaping up to be a fine vlogging camera.
A Fujifilm X-A7 with a viewfinder?
The rumors so far suggest the Fujifilm X-T200, which could be announced as soon as 23 January, will offer similar specs to the recent Fujifilm X-A7. This is good news, because that includes the ability to shoot 4K/30p video, and some impressive autofocus performance, including rock-solid face and eye tracking.
This could potentially make it a great option for those who need one camera that can manage both vlogging and smartphone-beating stills shooting. The viewfinder is essential for shooting in bright conditions, and Fujifilm's X Series has arguably the best range of lenses of any APS-C sensor camera, with a new XC 35mm f/2 lens likely to be announced at the same time as the X-T200.
The only major vlogging-friendly feature it appears to still lack is in-body image stabilization (IBIS), but this usually either adds size to the camera body or is only possible on a camera with a smaller sensor, like the Micro Four Thirds Olympus E-M5 Mark III.
We'll bring you official news of the Fujifilm X-T200 as soon as we get it.