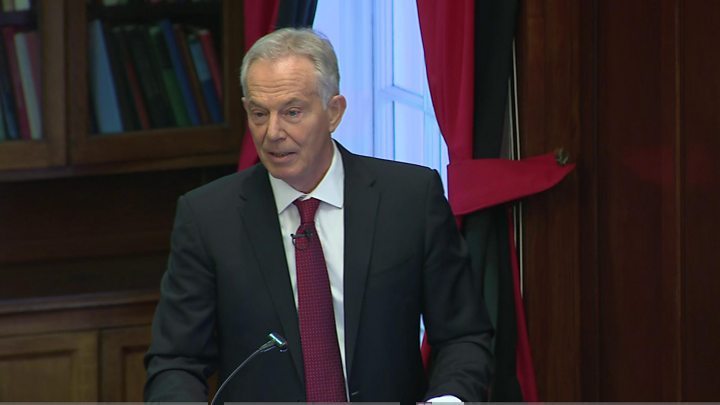 Labour "pursued a path of almost comic indecision" over Brexit during the election and "alienated both sides of the debate", Tony Blair has said.
In a speech in London, the ex-PM said he believed the party could have kept much of the vote in traditional Labour areas under a different leadership.
The situation was "made impossible by failure to take a clear position and to stick to it", Mr Blair said.
"The result has brought shame on us. We let our country down," he added.
Jeremy Corbyn told MPs on Tuesday that he "took responsibility" for Labour's worst electoral performance, in terms of seats won, since 1935.
He has said he will stand down as leader "early next year".
But he was criticised to his face by Labour colleagues, with former MP Mary Creagh saying the lack of a personal apology showed he was a "man without honour and without shame".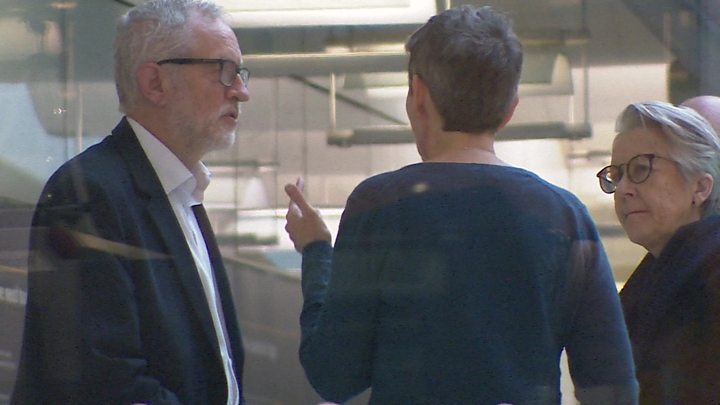 In his speech, ex-Labour leader Mr Blair – a longstanding critic of the party's move to the left under Mr Corbyn – said: "I believe with different leadership we would have kept much of our vote in traditional Labour areas.
"Instead, we pursued a path of almost comic indecision – alienated both sides of the debate."
And he said the party should never have fallen into the "Elephant trap" of agreeing to a "Brexit election" without a clear position on Brexit.
'Quasi-revolutionary socialism'
He suggested it would have been better for Mr Corbyn to stick to his traditional Eurosceptic views than sitting on the fence.
He insisted his criticism of Mr Corbyn as leader was not an attack on him "as a person".
But he added: "People saw him as fundamentally opposing what Britain and western countries stand for."
Mr Corbyn personified "a brand of quasi-revolutionary socialism – mixing far-left economic policy with deep hostility to Western foreign policy" – and that this combination "never has and never will" appeal to traditional Labour voters, he argued.
And the far-left "protest movement" which was born out of Mr Corbyn's leadership was supported by "cult trimmings" and was "utterly incapable" of being voted in as a "credible government".
Turning to allegations of anti-Semitism in Labour, he said: "The failure to deal with it is a matter of disgust that left some of us who voted Labour feeling for the first time in our lives conflicted about doing it."
He also hit back at Mr Corbyn's claim that Labour's policies were popular, arguing that individual policies, such as renationalising the railways, may have been popular but taken together, the party's manifesto was a "100-page wish list".
"Any fool can promise everything for free – but the people weren't fooled," he adds.
Mr Blair said Labour's challenge was to become a "modern progressive coalition" with the ability to win and hold power or admit it had "exhausted its original mission".
Among the Labour seats to fall to the Conservatives was Mr Blair's former constituency Sedgefield, which he represented for 24 years, and which has not had a Tory MP since the 1930s.
Mr Blair won three general elections in a row between 1997 and 2005.
'Molten anger'
Meanwhile, shadow Brexit secretary Sir Keir Starmer has told the BBC he is "seriously considering" standing to be the next Labour leader.
He said the party had a "mountain to climb" following their election defeat.
Reflecting on Labour's election defeat, Sir Keir – who like Mr Blair was calling for another EU referendum – told BBC Radio 4's Today programme the party had failed to "knock back" the Conservatives' "get Brexit done" slogan.
He also attacked the Labour's manifesto arguing it "had too much in it" adding "we couldn't see the wood for the trees".
Former Work and Pensions secretary Yvette Cooper said she would "decide over Christmas" on whether she would run.
Speaking to Radio 4's Today programme, she said Labour had "a long road to travel", adding that the party needed to tackle anti-Semitism, restore "kindness to our politics" and be more "inclusive".
Labour ended up with 59 fewer MPs than two years ago. While its share of the vote, at 32.2%, was higher than in either its 2010 or 2015 defeats, it was a far cry from the 41.9% it secured under Mr Corbyn in 2017.
And the collapse of its so-called "red wall" of seats in the Midlands, the North East of England and the North of Wales – some of which turned blue for the first time in 100 years – marked a watershed moment for the party.
Tuesday's meeting of the parliamentary Labour party lasted for nearly two-and-a-half hours – twice its usual length – and only three MPs spoke up for Mr Corbyn.
One veteran MP characterised the meeting as a mixture of "anger, despair and denial".
The criticisms were wide-ranging, from the direction of the party under Mr Corbyn's leadership to a shortage of Labour stickers in a marginal seat
The Labour leader himself blamed both the media and Brexit for the defeat.
Labour's ruling national executive will carry out a formal inquiry but as one former Labour cabinet minister told me "there was a lot of anger but it hasn't crystallised into a plan of action".