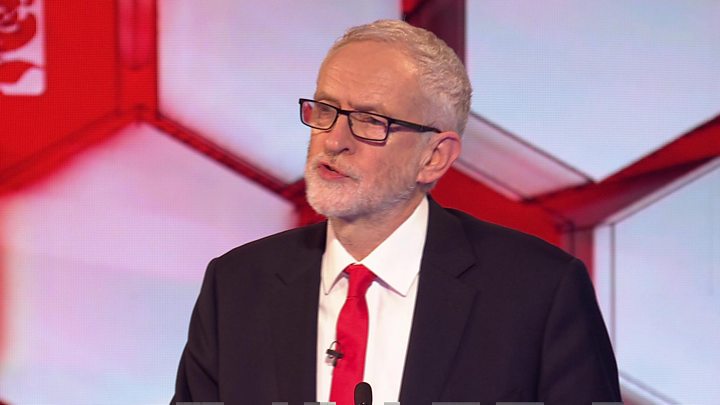 Boris Johnson and Jeremy Corbyn clashed over Brexit in the final head-to-head debate before the 12 December election.
During the live debate, Mr Corbyn said Labour would bring Brexit "to an end" by negotiating a new deal and putting it back to the public in a referendum, alongside a Remain option.
The PM said he had "a wonderful deal", and would use it to take the UK out of the EU on 31 January.
Other topics covered included the NHS, security and the economy.
Early on in the debate – hosted by Today presenter Nick Robinson – the Labour leader said he would negotiate a new withdrawal agreement with the EU within three months before putting it to a final say referendum – alongside Remain – within six months.
Mr Johnson countered by saying it was unclear what that deal would look like, adding he already had a withdrawal agreement in place, and would use it to leave the EU next month if he won a working majority in Parliament.
But Nick Robinson challenged Mr Johnson by pointing out that while he had a withdrawal deal in place, he was yet to negotiate a trade deal with the EU, and so could not rule out a no-deal exit in January 2021.
Mr Johnson responded by saying there was "ample time" to get a trade deal.
Like Brexit, the NHS has featured heavily in the campaign so far – and Friday night was no different.
Faith, a student nurse in the audience, asked how each leader would deal with a shortage of NHS nurses.
The Conservative leader said a government run by him would "encourage nurses overseas to come" to the UK "by shortening the time for their visa applications" and by reintroducing bursaries for training.
Mr Corbyn described the NHS as at "breaking point", adding that, under a Labour government, "£40bn in total would go into the NHS in order to fund it properly".
The Labour leader also repeated one of his main attack lines of the campaign – that a Tory government would allow the NHS to form part of a future trade deal with the US.
However, Mr Johnson described that claim as "Bermuda Triangle stuff".
Responding to the performances of Mr Corbyn and Mr Johnson, SNP leader Nicola Sturgeon tweeted: "That was utterly woeful. Two uninspiring men, both of them unsuited to be PM."
Meanwhile, Amelia Womack, of the Green Party, told the BBC: "I find it frustrating, as a younger woman, that we weren't discussing things that are relevant to my generation – whether that's house prices, rental prices, freedom of movement across Europe, or even zero-hour contracts."
Plaid Cymru's Liz Saville Roberts said the debate felt like a "shoddy end-of-term pantomime", and said both men displayed a "lack of honesty".
She added that, contrary to the claims of Mr Johnson, the "chaos" of Brexit "is going to go on", even if the UK leaves the EU next month.
And the Liberal Democrat Brexit spokesman Tom Brake said: "Tonight's debate was British politics at its worst. Two leaders offering nothing new, nothing different and neither being honest about the pain Brexit will cause our communities."
'No UK security on the cheap'
The prime minister and Mr Corbyn were also asked about security – an issue that has risen to prominence since the London Bridge attack on 29 November.
Both candidates were asked by an audience member if they would prioritise the safety of citizens over human rights.
Mr Corbyn said the choice was "not an either/or" and added the UK could not have security "on the cheap".
When it came to his turn, Mr Johnson referred to the London Bridge attack, and said it was "extraordinary and wrong" that the attacker was given automatic early release from prison after an earlier terrorism conviction.
Punches landed, but no knock-out blow
In a campaign where both parties have sought to repeatedly talk about their key themes, tonight did not diverge radically from the script.
Boris Johnson came under pressure on the issue of trust – and whether his Brexit plan would mean checks between Great Britain and Northern Ireland.
Jeremy Corbyn was once again pressed on his failure to pick a side on Brexit – and questioned on why Europe would offer Labour a new deal when so many frontbenchers back Remain.
Both men landed punches. But none of them were critical.
And given that polls suggest the Conservatives are ahead in the polls – that might suit Boris Johnson more than Jeremy Corbyn.
Mr Johnson and Mr Corbyn faced from about 100 members of the public in Maidstone, Kent.
The audience was selected to include equal numbers of Conservative and Labour supporters, in addition to a smaller number of supporters of other parties and undecided voters.
There were slightly more Leave voters than Remain in the audience, reflecting the result of the 2016 referendum – apart from those audience members who were too young to vote at the time.
The Prime Ministerial Debate followed a head-to-head encounter on ITV earlier in the campaign when the two clashed on Europe, leadership and the future of Scotland.
What are Johnson and Corbyn promising you?
Here's a concise guide to where the parties stand on key issues like Brexit, education and the NHS.