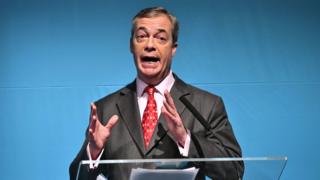 Nigel Farage has unveiled the Brexit Party's general election policies, promising a "political revolution that puts ordinary people first".
The party leader pledged to cut the foreign aid budget, abolish the House of Lords and cap permanent immigration at 50,000 a year.
The Brexit Party is running in 275 seats, after deciding to stand down in the 317 won by the Tories in 2017.
It is also promising a "clean break" from all EU institutions.
Speaking in London, Mr Farage said his party would scrap VAT on fuel bills and stop companies earning less than £10,000 a year paying corporation tax.
He promised that millions of trees would be planted to absorb carbon emissions.
Mr Farage also said his party favoured making civil servants sign a "pledge of political neutrality" and devising "political guidelines" for the Supreme Court.
Introducing a ban on exporting waste to other countries for it to be burned
Scrapping the HS2 high-speed rail project
Providing free "base level" broadband for all homes, and free wi-fi on all public transport
Abolishing business rates for shops outside the M25, funded by a "small online sales tax"
Scrapping all interest on student loans, and abolishing inheritance tax
Phasing out the BBC licence fee
Several other political parties have launched traditional manifestos – outlining policy commitments for government – this week, but Mr Farage and his colleagues have declined to do so.
He said manifestos were a "means of telling people what they want to hear without ever having the genuine desire to implement them".
The Brexit Party will campaign for postal voting to be limited to elderly, infirm and overseas voters, with Mr Farage citing "many examples of intimidation and fraud".
The manifestos
In manifestos launched this week:
Plaid Cymru is also launching its plans for the election on Friday.
Watch the BBC Question Time leaders' special
---
Do you have any questions about the election?
In some cases your question will be published, displaying your name and location as you provide it, unless you state otherwise. Your contact details will never be published. Please ensure you have read the terms and conditions.
Use this form to ask your question:
If you are reading this page and can't see the form you will need to visit the mobile version of the BBC website to submit your question or send them via email to YourQuestions@bbc.co.uk. Please include your name, age and location with any question you send in.