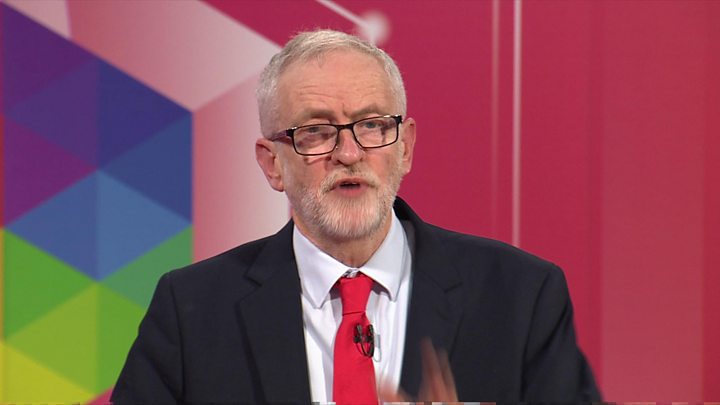 Boris Johnson has criticised Jeremy Corbyn after the Labour leader said he would remain neutral in a future Brexit referendum if he won power.
Mr Corbyn told a BBC Question Time leaders' special he would not campaign for Leave or Remain so it would allow him, as prime minister, to "credibly" carry out what the voters then decide.
The PM later asked how Mr Corbyn could be "indifferent" on such a vital issue.
But Mr Johnson faced questions of his own about whether he could be trusted.
The prime minister was the fourth party leader to answer the audience's questions, with the SNP's Nicola Sturgeon and Liberal Democrat Jo Swinson also taking to the stage for exactly 30 minutes each.
Pressed on whether he could be relied upon to tell the truth on both policy and personal matters, Mr Johnson said the "issue of trust" was crucial for voters but argued the biggest threat to public confidence was the "corrosive" effect of Parliament trying to block Brexit.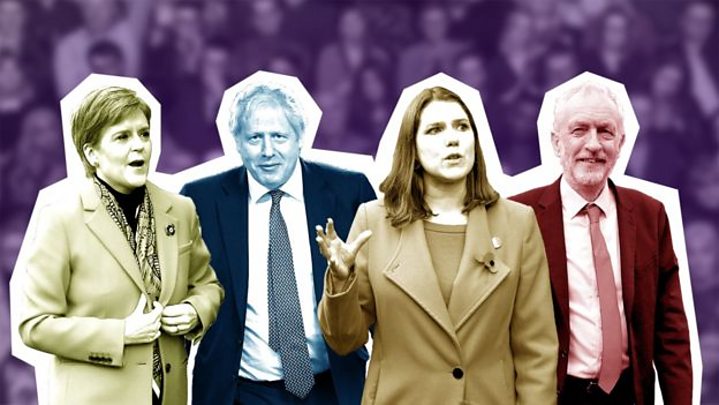 He said the Labour, SNP and Lib Dem leaders wanted to "basically frustrate" the result of the 2016 referendum, which the public had been waiting more than three years to see delivered, by "absurdly" holding another one.
He said that the Labour leader's views seemed to have "mutated" and Mr Corbyn's ambition to negotiate an improved agreement would be totally undermined if he did not care whether the public backed it or not.
"He is now going to be neutral on the deal he proposes to do. I don't see how he can do a deal when he is going to be neutral or indifferent."
Johnson on 'Bermuda triangle stuff'
The Conservative leader also dismissed suggestions he was trying to suppress the findings of a report into alleged Russian interference in the 2016 referendum vote as "Bermuda triangle stuff".
"There is no evidence whatsoever, that I know of, to show any interference in any British electoral event," he said.
He insisted his party had "zero tolerance" towards Islamophobia and said he regretted any offence he had caused in articles he wrote about race during his journalistic career – but did not accept an audience member's invitation to say "sorry" for writing them.
Labour's economic plans would be "ruinous" for the country, he argued, but he also acknowledged his plan to cut national insurance bills for low-earners – expected to be the main tax announcement in Sunday's manifesto – would only have a modest impact.
On the NHS, Mr Johnson stuck by his claims that the health service was receiving the biggest cash injection in its history.
He added: "Of course I understand that things have been tough in the NHS and understand the pressures the NHS is under. I know the massive demand the NHS faces but we can only meet that demand if we have a dynamic economy."
Corbyn says 'you heard it here first' on Brexit stance
The four leaders all appeared individually and faced a mixture of audience questions and follow-up questions from host Fiona Bruce at the event in Sheffield.
The first to take the stage, Mr Corbyn, faced tough questioning about his economic polices, with one member of the audience suggesting his "reckless socialist" agenda "terrified" him and his family.
Mr Corbyn said his plans to take Royal Mail, the railways, the water industry and broadband delivery into public ownership had been "set out" very clearly and were aimed at "delivering an economy that works for all".
He insisted business had "nothing to be frightened of" by his plans, saying his "fully prepared and costed manifesto" would bring the country together and help reduce inequality.
Mr Corbyn was criticised for what several audience members suggested was a lack of clarity on whether he personally would support or oppose Brexit in a new referendum in 2020, with one questioner saying: "Why would anyone vote for Labour without knowing the answer to that question?"
Mr Corbyn said it was "entirely reasonable" to put the question back to the people as another referendum represented a sensible middle ground between those who wanted to cancel Brexit entirely and those backing the PM's deal.
Asked to clarify his own position, he said: "I will adopt, if I am prime minister at the time, a neutral stance so I can credibly carry out the results of that to bring our communities and countries together rather than continuing an endless debate."
He later told the audience: "You heard it here first on Question Time".
In doing this, he would follow in the footsteps of Harold Wilson – who allowed Labour ministers to campaign on both sides in the 1975 Common Market referendum and took a back seat during the campaign – although he personally backed staying in.
Questioned on the issue of tackling incidents of anti-Semitism in the Labour Party, Mr Corbyn was accused of failing to intervene when one of his own Jewish MPs, Ruth Smeeth, was heckled by an activist at a party event in 2016.
Mr Corbyn said Ms Smeeth and others had "suffered terrible abuse". He insisted that all forms of racism and misogyny were "unacceptable" and party activists who had abused MPs had been disciplined or expelled.
The BBC Question Time Leaders Special
Sturgeon believes Corbyn will budge on Scotland
Following Mr Corbyn as the second party leader to face the BBC audience, the SNP's Nicola Sturgeon said voting for her party in Scotland was the best way of "depriving" the Tories of a majority across the UK.
Asked about what she would do in the event of another hung Parliament on 12 December, she said she would not work with the Tories but was prepared to deal with Labour if Jeremy Corbyn committed to end austerity and agreed to hold another Scottish independence referendum.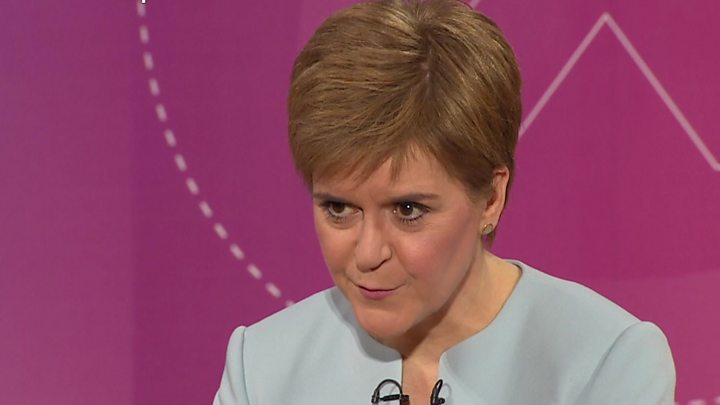 "In terms of what I would seek to win from a minority Labour government, obviously I would ask for and expect Jeremy Corbyn to respect the right of the Scottish people to choose their own future.
"It is not for Westminster to decide. It is for the people of Scotland."
When it was pointed out to her that Mr Corbyn had just stated to viewers that he would not sanction another independence referendum in the first two years of a Labour government, she said she was predicting what he might choose to do after the election, rather than dwelling on what he was saying now.
She said: "Do you think he's going to walk away from the chance to end austerity, to protect the NHS, stop Universal Credit, simply because he wants, for a couple of years, to prevent Scotland having the right to self-determination?
"I'm not sure he's going to compromise the chance to have a Labour government for that issue."
Swinson speaks out on austerity voting record
When she came on the stage, Liberal Democrat leader Jo Swinson was immediately asked by an audience member whether she regretted saying she could become prime minister and "how ridiculous this sounded" – given that her party only had 20 MPs at the end of the last Parliament.
She said she recognised it was a "big ask" for her to make it to No 10 but she believed many people were "dismayed" at having to choose between Boris Johnson and Jeremy Corbyn and there had to be a "better alternative" – and she added: "We do live in a world where strange things have happened in politics."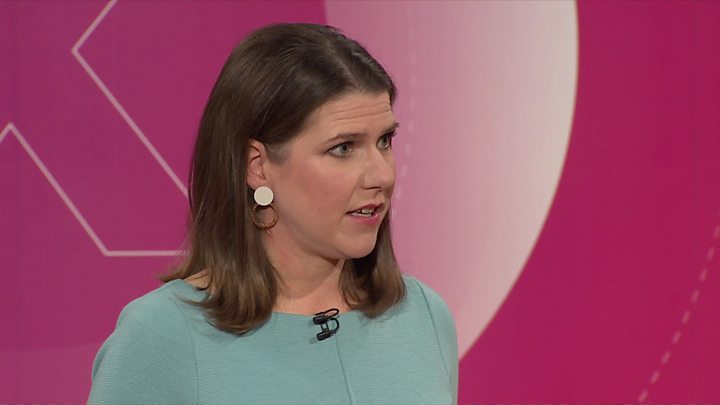 She was also challenged over austerity and what one audience member said was her party's backing for "harsh and cruel benefit cuts" while in coalition with the Conservatives between 2010 and 2015.
She conceded the Lib Dems had made mistakes during their time in government and should have done more to limit the scale of austerity – although she said she remained supportive of the principle of the Universal Credit system – which Labour has pledged to scrap.
"We had plenty of fights with the Conservatives. We won some of those fights and lost some of those fights. I am sorry we did not win all those fights… I get it… we have learned lessons."
The two-hour show comes after recently-screened Question Time specials with Brexit Party leader Nigel Farage and Green Party co-leader Jonathan Bartley.
The BBC will also host a live head-to-head debate between the Conservative and Labour leaders on 6 December, plus a seven-way podium debate between senior figures from the UK's major political parties on 29 November, live from Cardiff.
Channel 4 News will also host a debate focusing solely on climate change. Labour, the Liberal Democrats, the SNP and the Green Party have all agreed to take part, but the Conservatives not yet said whether they will attend. A date has not yet been announced for this debate.