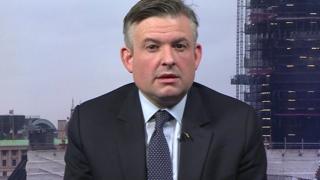 Labour's Jonathan Ashworth has insisted his apparent criticism of Jeremy Corbyn in a leaked secret recording by his Tory activist friend was "banter".
The recording was leaked to Tory-supporting website Guido Fawkes.
He told the BBC's Victoria Derbyshire he was "joshing" when he told his friend that he thought there was no way Labour could win the election.
The shadow health secretary added he did not think Mr Corbyn would be a security threat if he was elected.