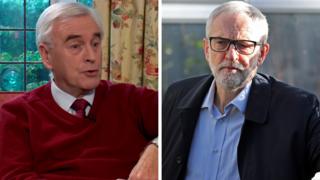 Jeremy Corbyn and John McDonnell have apologised over Labour's "catastrophic" defeat in Thursday's election, which saw them lose 59 seats.
Mr Corbyn said he was "sorry that we came up short", while Mr McDonnell told the BBC he "owns this disaster".
The leader and shadow chancellor said they would step down in the new year.
The race for their replacements has already begun, with Wigan MP Lisa Nandy saying for the first time she was "seriously thinking about" running.
Labour suffered its worst election result since 1935 and saw its vote share fall by eight points.
The Conservatives won a Commons majority of 80 – the party's biggest election win for 30 years – sweeping aside Labour in its traditional heartlands.
Mr Corbyn apologised to Labour supporters in two articles in the Sunday papers, calling it a "body blow for everyone who so desperately needs real change in our country".
He said he took his "responsibility" for the result, but insisted he remained "proud" of the party's campaign.
But Mr McDonnell has argued "it's on me" as he apologised for the performance on the BBC's Andrew Marr programme.
The shadow chancellor said he was sorry for "not being able to articulate" the party's campaign message ahead of the poll.
He also blamed the "media portrayal" of the current leader, saying "of course the system will throw the kitchen sink at you" if you challenge it.