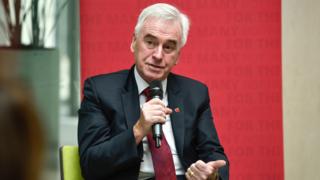 Labour has promised "investment on a scale never seen before" to overhaul infrastructure in all areas of the UK.
Shadow Chancellor John McDonnell says he wants to transfer power and money out of the south-east of England – and will fund his plans through borrowing.
The Tories have also vowed to borrow to fund more spending, rewriting their current financial rules.
Chancellor Sajid Javid denied copying Labour's plans, saying he would practise "sensible stewardship".
Both parties say they want to take advantage of historically low interest rates to spend more on transport, hospitals and other infrastructure projects.
They are locked in a battle for votes in the Midlands and north of England in swing seats that could decide who forms the next government on 12 December.
Both parties are also promising to shift power and control of spending out of London – but they have different ideas about how to do that.
Speaking in Liverpool, Mr McDonnell promised to set up a Treasury unit in the north of England.
The Conservatives have promised to give the north of England more control over its railways, greater powers for some elected mayors and a new economic development body.
Analysis
BBC business correspondent Simon Gompertz
Today we see a slanging match between the Conservative and Labour candidates for chancellor.
Each sees the other's plans for public spending as irresponsible.
But what is interesting is where the similarities are.
They now agree that this era of unusually low interest rates provides an opportunity to borrow to invest.
Both will push up the national debt.
Both argue that stepping up investment now will make the UK more productive later on.
The question, as ever, is how much will they borrow and how much debt they think the UK can support.
Labour is adding a cool £150bn to its investment plans over five years, a very big sum.
John McDonnell believes by spending on schools, hospitals and other infrastructure he would create a virtuous circle, a bigger economy which could afford the debt.
Sajid Javid would replace the Tories' self-imposed limits on borrowing with less stringent rules, including the promise that annual investment in projects like road and rail would not exceed 3% of national output.
He says the difference between his and Labour's plans is "like night and day" but, however they differ, debt looks set to rise.
At the 2017 general election, Labour announced plans to set up a national transformation fund to overhaul the UK's transport links and infrastructure.
This includes a social transformation fund, which Mr McDonnell said would now get an extra £100bn, providing a £150bn pot to be spent over the next five years.
A further £250bn of investment will be spent across the country through the Green Transformation Fund.
Mr McDonnell said the investment would help a Labour government address a "climate emergency", as well as a "human emergency which has been created by the Tories".
He said his party would introduce new fiscal rules, meaning "borrowing for investment" would not be included in borrowing targets.
He added the new approach would mean public assets created by infrastructure spending would be "recognised both as a cost and as a benefit".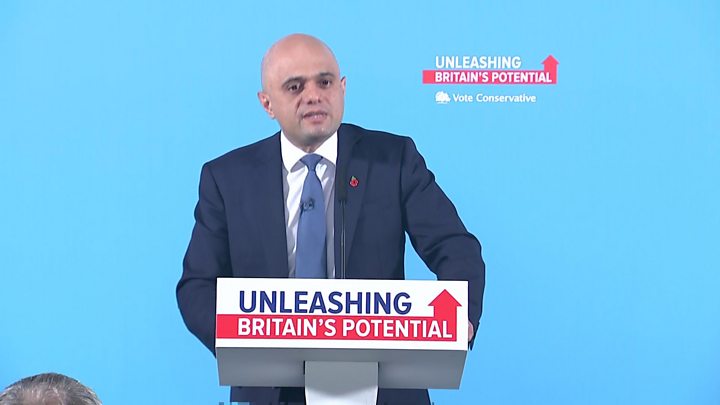 But Mr Javid attacked Labour's investment plans, accusing the party of wanting to "spray money round like confetti", and indulging in "fantasy economics".
He said the "transformation" in the economy since the Conservatives took power "was not the result of some fiscal cycle", but "down to solid economic stewardship".
"By far the biggest fear of business is a Corbyn-led government," he added.
He said ending the uncertainty over Brexit was "the most important thing the economy needs right now", and would "unleash" more private investment.
Former MP's criticisms
Mr McDonnell and Labour leader Jeremy Corbyn will also use their trip to north-west England to unveil Labour's campaign bus, with the election message: "It's time for real change."
Ahead of both speeches, the Express and Star newspaper revealed that former Labour MP Ian Austin would be standing down at the election, expressing his criticism of the Labour leadership and calling on voters to back Prime Minister Boris Johnson in the poll.
Speaking on BBC Radio 4's Today programme, Mr Austin said that after 34 years in the Labour Party, it "has really come to something when I tell traditional Labour voters they should be voting for Boris Johnson at this election".
His comments follow deputy leader Tom Watson's decision to stand down from his role, citing "personal, not political" reasons.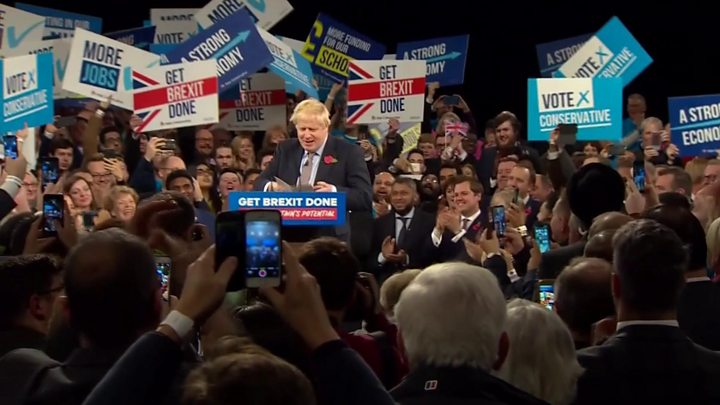 What question do you have about the general election?
In some cases your question will be published, displaying your name, location and age as you provide it, unless you state otherwise. Your contact details will never be published. Please ensure you have read the terms and conditions.
Use this form to ask your question or get in touch using #BBCYourQuestions:
If you are reading this page and can't see the form you will need to visit the mobile version of the BBC website to submit your question.