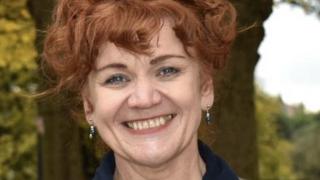 Wales' first two female Conservative MPs have been elected as the party claimed key seats from Labour.
Sarah Atherton's 2,131 majority win in Wrexham was followed by Virginia Crosbie who took Ynys Mon.
The Tories also turned Vale of Clwyd and Clwyd South from red to blue in other seats they had targeted.
But Labour did hold on to Gower while Plaid Cymru held Arfon, as Hywel Williams increased his majority from 92 to 2,781.
Speaking after her win, Ms Atherton, who is filling the seat vacated by Labour's Ian Lucas ahead of the election, said she was "delighted and privileged" to be the first Welsh female Conservative MP.
"The people of Wrexham wanted Brexit done and delivered.
"I think that's why we have got a majority of 2,000 tonight," she said.
Former Welsh Secretary Alun Cairns, who resigned from the cabinet at the start of the campaign following a row about what he knew about a former aide's involvement in the collapse of a rape trial, held on to his seat in the Vale of Glamorgan.
According to exit polls, the Tories appear on course for a big win forecast to take 368 seats, 50 more than the last election.
Labour is forecast to take an estimated 191 seats, down 71 from the 2017 poll. In Wales it has held Rhondda, Ogmore, Pontypridd, Caerphilly and its two Swansea seats, as well as Gower.
Plaid Cymru – forecast to take three seats, down one – have so far secured two with Arfon and Liz Saville Roberts retaining Dwyfor Meirionnydd.
In Wales, Delyn, Bridgend, and Alyn and Deeside are also forecast to turn blue.
<!–
<!–
Wales
After 24 of 40 seats
Labour
LAB

15 seats

, -4 seats compared to 2017

Conservative
CON

6 seats

, +4 seats compared to 2017

Plaid Cymru
PC

3 seats

, +0 seats compared to 2017
If you cannot see the graphic click here.
Paul Davies, the Conservative leader in the Welsh assembly, said: "People want to see Brexit delivered and that's why they have come out to vote for us, if this poll is correct."
His predecessor Andrew RT Davies said: "People across the country have stood up and told their politicians that democracy should be respected and have also emphatically rejected the hard-left socialist dogma of Jeremy Corbyn."
Welsh Conservative chairman Byron Davies said he was "very encouraged by what we have seen so far", and the former Gower MP said the constituency was looking "close".
Meanwhile, Russell George, Tory AM for Montgomeryshire, said his constituency was looking "positive" for his party, as was the current Lib Dem seat of Brecon and Radnorshire.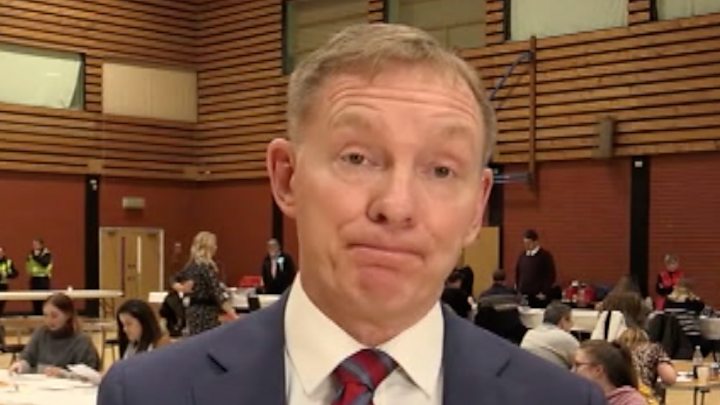 Labour's Chris Bryant, who is standing in the Rhondda, called it the "worst night for Labour since 1935".
Speaking on BBC Wales' Election 2019 programme, he said his party would have "lost four elections in a row" and were now looking at "being out in the wilderness for even longer" unless there was "some serious soul-searching".
Stephen Kinnock, the party's Aberavon candidate said if the exit poll was correct he would "urge" Jeremy Corbyn to consider his position.
"I think he has to seriously consider his position. I don't think a leader who has lost two elections can seriously just stand up and pretend that nothing has happened," he said.
"If you're losing your heartland seats you're losing your sense of purpose, your sense of mission."
Vaughan Gething, Welsh Labour health minister, said if the exit poll was borne out it would be a "bad night for the Labour party" and "a bad night for the country".
The pro-EU politician said voters had seen both Boris Johnson and Jeremy Corbyn as "marmite".
"We did understand that traditional Labour voters, older Labour voters, had a real issue voting Labour in this election," he said.
Stephen Doughty, who has held the Cardiff South and Penarth seat for seven years, tweeted: "I fear the future for our younger generation. I fear for the public institutions and integrity of our country. Dark times. Some of us must offer new hope amidst despair."
However, Plaid Cymru AM Delyth Jewell struck a note of caution, saying two of the seats the party was defending were ultra-marginal.
"I would have liked to have seen us having more seats, but we always knew this was going to be difficult," she said.
Welsh Liberal Democrat Baroness Randerson said the exit poll was "obviously disappointing".
"When we've been canvassing it seemed at times like an unpopularity contest between Boris Johnson and Jeremy Corbyn," she added.
Other seats that could change hands include Ynys Mon, Arfon, Brecon and Radnorshire, and Gower.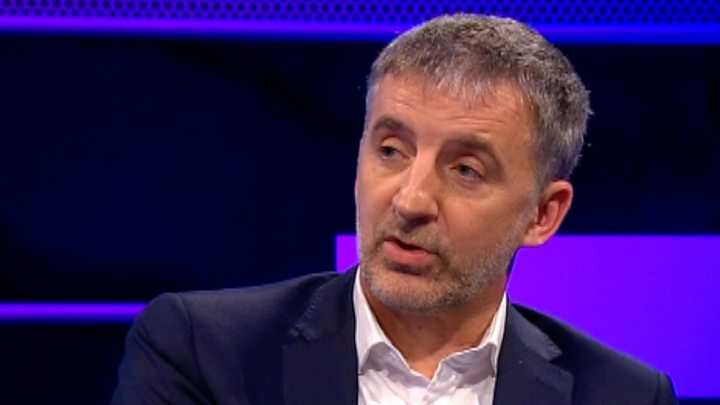 Prof Laura McAllister, from Cardiff University, speaking on the BBC Wales Election 2019 programme, said: "There's irony here if these results do play out. Labour might be looking at having the bulk of its MPs in the south Wales valleys – the part of Wales which is most resistant to Jeremy Corbyn.
"It will be interesting how that plays out for the First Minister, Mark Drakeford, who is himself a supporter of Jeremy Corbyn."
But Prof Roger Awan-Scully, also of Cardiff University, said: "The Conservatives record of winning any post-war general election is winning 14 seats in Wales.
"I think that could well be under threat tonight and we could be on course for a historic Conservative performance.
"We could see the Labour Party wiped out in north east Wales and under threat in a number of south Wales seats as well."
Find a constituency
n '},t}();e.default=s},function(t,e,n){"use strict";e.__esModule=!0;var r=i(n(22)),o=i(n(184));function i(t){return t&&t.__esModule?t:{default:t}}var s=function(){function t(e){var n=e.intersectCallback,o=void 0===n?function(e){return t.isFullPostcode(e)}:n,i=e.searchType,s=void 0===i?"gss-council":i,u=e.apiKey,a=void 0===u?"WdmvTVscFy19vwu3UG82gTQ3HtaaLsVp":u;(0,r.default)(this,t),this.queryConfig={locservicesBaseURL:"https://locator-service.api.bbci.co.uk/locations",endpoint:"details",intersectCallback:o,searchType:s,params:{postcode:"",op:"",format:"json",vv:"2″,rows:"",detail_types:s,api_key:a}},this.encodeParams=this.encodeParams.bind(this)}return t.prototype.query=function(e,n,r,i,s,u){var a=this,c=t.sanitisePostcode(e),l=!!this.cache,f=l&&this.cache.response.length>0,h=l&&t.isSimilarQuery(this.cache.postcode,c),p=this.queryConfig.searchType;if(this.queryConfig.params.detail_types="function"==typeof p?p(c):p,t.isPostcode(c)){var d=this.queryConfig.intersectCallback(c);this.queryConfig.params.op=d?"intersect":"nearest",this.queryConfig.params.rows=d?"":"6″,this.queryConfig.params.postcode=c;var v=this.constructURL();return(0,o.default)(v).then((function(t){var e=a.formatResponse(a.filterInvalidResponses(t.response,u),u);return a.cacheResults({postcode:c,response:e}),n(e)}))}return f&&h?n(this.cache.response):t.couldBePostcode(c)?r({suppressError:!0}):r()},t.isSimilarQuery=function(t,e){return e.indexOf(t)>=0||t.indexOf(e)>=0},t.prototype.filterInvalidResponses=function(t,e){var n=e.map((function(t){return t.id}));return t.content.details.details.filter((function(t){return n.indexOf(t.externalId)>-1}))},t.prototype.formatResponse=function(t,e){return t.map((function(t){return{id:t.externalId,data:e.filter((function(e){return e.id===t.externalId}))[0].data}}))},t.prototype.cacheResults=function(t){var e=t.postcode,n=t.response;this.cache={postcode:e,response:n}},t.prototype.constructURL=function(){return[this.queryConfig.locservicesBaseURL,this.queryConfig.params.postcode,this.queryConfig.endpoint,this.queryConfig.params.detail_types].join("/")+"?"+Object.keys(this.queryConfig.params).reduce(this.encodeParams,"")},t.prototype.encodeParams=function(t,e){return""!==this.queryConfig.params[e]?t+"&"+e+"="+this.queryConfig.params[e]:t},t.isPostcode=function(e){return e.length=2&&(t.isFullPostcode(e)||t.isPartialPostcode(e))},t.couldBePostcode=function(e){return e.length>1&&e.length